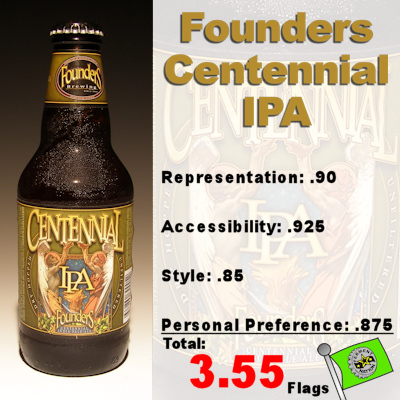 Founders
Centennial IPA
:
Unfiltered and dry-hopped, this India Pale Ale has a really nice balance and a bit of zip to it. Less floral and a bit drier than some other IPAs I've had.
Centennial
has a medium body and refreshing flavor but it's not as citrusy and flowery as, say
Green Flash
West Coast IPA
or
Ithaca
Flower Power
. And as an IPA, the paleness does shine through and isn't completely masked by the hops. Definitely drinkable and not nearly as rich as another
Founders
classic
Double Trouble
.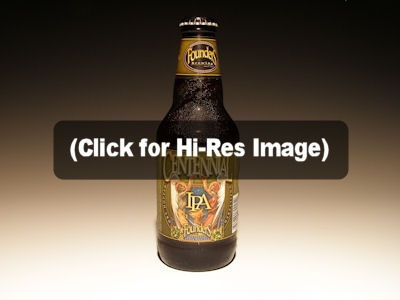 Founders
Centennial IPA
is a really dry pale ale with hops that remain in the background until the aftertaste. But dry as it is, there is also a malty earthiness that holds the beer together. Not sweet, mind you, but a touch of caramel peeks through. Pretty smooth and drinkable with a nice mouthfeel and just a hint of spice.
Founders
has its own style and distinct flavor profile, but if it helps to compare and contrast, here are a few beers I've had recently (and you, good citizen, may be familiar with) that may be in the same ballpark: It's kinda like
Sierra Nevada
Torpedo
meets
River Horse
Hop-a-lotamus
plus a little bit of
Dogfish Head
60 Minute IPA
. All in all, it's a really nice IPA with just enough complexity to keep it interesting. The highlight is its fine accessibility. This brew is worth taking to a barbecue so you can show off your good taste in beer without going overboard.
Founders Centennial IPA:

Representation: .90
Accessibility: .925
Style: .85
Personal Preference: .875
Total Score: 3.55 Flags