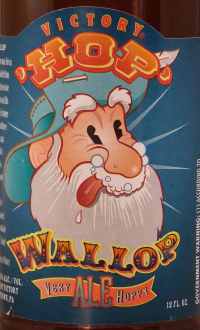 Victory
Hop Wallop
:
The first time I had
Hop Wallop
(a few years ago now) I had it in my head that this beer was a bit too much. A little too bitter, a touch too hoppy, a tad too strong, a mite to dry, an aftertaste that lingered a second too long...
Well
Victory
Hop Wallop
is more than I remembered. It's hoppier, spicier, bitterer, drunkier...Basically
better
than I remembered.
If
Hop Devil
has a crazy uncle chained up in the attic,
Hop Wallop
is that uncle. The body is pretty light considering its 8.5% abv and generous hoptastic shenanigans. Not syrupy at all -- very crisp. Opens up nicely in a glass, but
Hop Wallop
is drinkable right out of the bottle (if you're into that kind of thing). Many IPAs would be a little stifled in a bottle, but
Victory
makes a mean brew with just enough balance to satisfy anyone thirsting for serious hop satisfaction.
Hop Wallop
is not for beginners... Intermediate level
at least
. Andvanced students of hoppery will continue to be challenged by the relentless finish of
Victory
's craziest old coot -- Horace "Hop" Wallop. Use this bitter beer to spice up some tame fare. I only suggest this because I tried using it to wash down a spicy chile green salsa and the flavors kinda clashed. Too much.
Victory
Hop Wallop
:
Representation: 1.0
Accessibility: .90
Style: 1.0
Personal Preference: 1.0
Total Score: 3.9 Flags