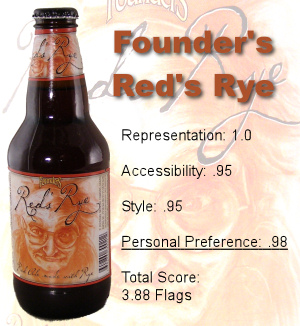 Founder's
Red's Rye
:
Had this beer several times on tap at Cork, once at High Street Grille, and now in a bottle. Damn fine. Simply described as "red ale made with rye", this beer has a lot more than that to offer a real beer lover. Acres of flavor with a medium body. Red Ales never had it so good. The rye is evident, but even more so when you're eating rye bread. Wash down a Reuben sandwich with this fine brew and put your taste buds to the test. Also clearly evident are the hops. Got a nice bitterness, especially at the finish.
Now this is a cool hoppy alternative to the super-sized IPAs that float around from time to time. See if you agree with this assessment: Sierra Celebration meets Hop Devil meets Dock Street Rye IPA. I wonder if I could have a tan and tan and tan with these three and check it out.
Much like the Hop Devil, this ale goes down very smoothly and may surprise you at 6.8% abv, so don't be afraid of Red's Rye, but respect it for sure. More like an IPA than a red, so Killian's drinkers are going to either be converted or disgusted. Either way,
Founder's
brews have impressed me since I first tried them a few short weeks ago.
Red's Rye
is a work horse of a beer, and highly recommended.
Founder's
Red's Rye
:
Representation: 1.0
Accessibility: .95
Style: .95
Personal Preference: .98
Total Score: 3.88 Flags