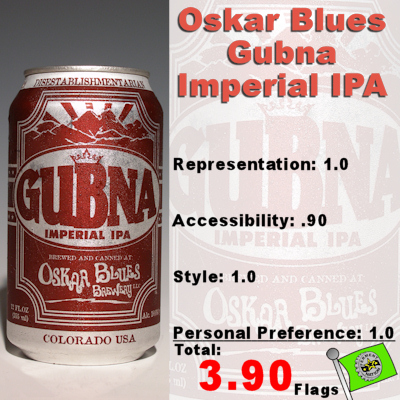 Oskar Blues
Gubna
Imperial IPA:
'Allo,
Gubna
. Disestablishmentarian to say the least,
Oskar Blues
pulls out all the stops to bring beer drinkers an IPA of imperial proportions. The can is merely a transportation device, of course, and it barely contains the floral hoppy goodness that bursts forth from this imperial IPA.
The pour is similar to that of the
Gordon
-- bubbles swirl in the rich body of the beer before floating upward toward the head. The bubbles bring a nice light aroma to the surface as well. The color is very light gold and only slightly hazy. It reminds me of an American Double IPA like
Victory
's
Hop Wallop
or
Smuttynose
Big A
IPA... but don't let looks fool you!
Gubna
isn't as light as those beers (did I just say that?). The richness of
Gubna
is more akin to an
Avery
Maha Raja
,
Weyerbacher
Double Simcoe
, or
Founders
Devil Dancer
. It's right up there in flavor but seems to be the most Accessible of the bunch. A certain sweetness mellows out the bitterness of the hops and smooths over the aftertaste. The sweetness is not vanilla and oaky, like
Dogfish Head
's
Burton Baton
, but rather more floral like
Founders
Double Trouble
. Powerful, yes. Overpowering, no.
(It may seem as though I'm comparing Gubna to a lot of beers. I am. The experienced Hop-Head needs nuanced descriptions to get the full effect, right?)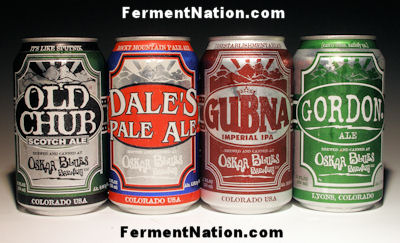 I've had this brew several times from a can and once on draught. The experience is always richly rewarding. Hop-Heads, don't die without checking out Gubna. It satisfies your bitter buds with some serious hoppage but still leaves you wanting more. How many more? That's the rub. The richness of the brew and the slightly sticky, floral hop essence mask a pretty serious abv%. Gubna weighs in at 10% abv so you may want to limit yourself to just one. Use it as a nightcap, perhaps. I had a late dinner last night (Greek style turkey burgers with spinach inside, topped with dijon mustard) and it was a nice complement: savory yet not off-putting.
If you get your hands on a
Gubna
, dear citizen, email a review to El Presidente. We at the
Ferment Nation
would love to share your opinions and pics. Cheers!
Oskar Blues
Gubna
Imperial IPA:
Representation: 1.0
Accessibility: .90
Style: 1.0
Personal Preference: 1.0
Total Score: 3.90 Flags