What
: Oskar Blues Dale's Pale Ale 6
.5% abv
Where
:
Sun Up Brewing (Phoenix, AZ)
When
:
February 26, 2010
What-have-you
:
Dale's Pale Ale has a red, white, and blue with stars motif going on with its can design, so it is fitting that I review this on Memorial Day. I crack open the can, and I can smell an initial recognizable hoppy aroma. This is nice. After a couple of sips, I am pretty sure this is the best beer I have ever had out of can. No wonder this beer is so popular.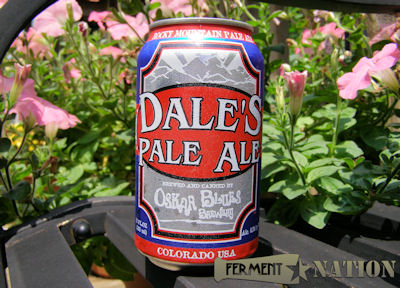 Thinking back 10 years or so while I was still in college, my friends and I would drink beers like Milwaukee's Best Ice and Icehouse and Bud Ice. Why? Because they had higher alcohol contents, but wow, they really tasted bad. So, when I drink
Dale's Pale Ale
today, I am thinking this is pretty awesome. It is a rock solid pale ale. It is hoppy enough that someone might mistake it for an IPA, too, which is nice. On a hot day, this beer is conveniently packaged in cans, delicious to taste and the 6.5% abv packs just enough of a kick that I am feeling better quicker, but its not going overboard. Here's to America, the red, white and blue, and
Dale's Pale Ale
. Pass me another can, please.
You can read what El Presidente had to say about
Dale's Pale Ale
as well as some more
Oskar Blues
beers. Check them out.