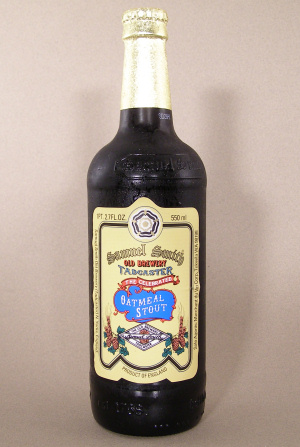 Samuel Smith's
Tadcaster
Oatmeal Stout
:
Sublime artistry. Tough to find a beer brewed with more care or with finer ingredients; It would be challenging at the very least. This is the kind of beer you should take some time with. Full bodied with boundless flavor, this stout is devastatingly close to being perfect. You could drink this classic brew from the bottle if you had to, but pour it into a pub pint glass to unlock the creamy textures and subtle complexities. Lots of style, but over the top only in its gentility. The brewmaster isn't just a good cook -- no, definitely a chef. Speaking of food, I don't know as if I'd offer any kind of food pairing at all. Drink
Sam Smith's
Oatmeal Stout
as a meal unto itself.
If you are a stout lover, do yourself a HUGE favor and pick this up right away. Not an imperial with outrageous flavor, but certainly regal in its drinkability. Mere mortals shouldn't waste their time or money with this experience. This is the kind of beer you seek out, not the kind you have by accident at a friend's house. So make the journey and come back a little better than you were when you left.
Samuel Smith's
Tadcaster
Oatmeal Stout
:
Representation: 1.0
Accessibility: 1.0
Style: 1.0
Personal Preference: 1.0
Total Score: 4.0 Flags