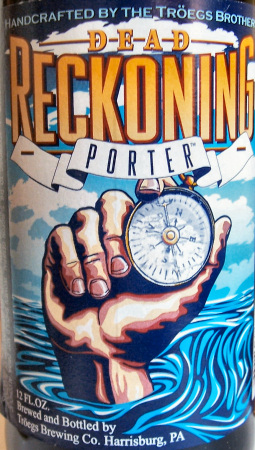 Troegs
Dead Reckoning
Porter:
I fell in love with this beer before I even drank it. The logo is so cool that upon my diplomatic voyage to
Troegs
last year I purchased a t-shirt bearing its likeness even though the stores had been depleted. I managed to have just one or two last year before it disappeared into Davey Jones's Locker. Now, out of the depths,
Dead Reckoning
rises once more to spice up your fall.
This porter from
Troegs
has a mediumish body (a little on the lighter side of medium) and a dry, chocolate zest. Crisper and drier than many porters, the toastalicious malty notes are still there, but a hoppy essence complexicates things just a bit. It's a smart brew that's versatile enough to quaff from bottle or glass. I usually go bottle. I feel like its effervescence keeps the dryness in a little longer.
This is a winner for backyard BBQs. A little too expensive to chance at a tailgater where any old swab might shanghai this gem. You know what I'm in the mood for? Gouda cheese. Get creative with a burger and add some smoky goodness. Let me know what you think.
Batten down the hatches, put on your slicker, and fire up that meerschaum. Nauti by nature,
Dead Reckoning
Porter could make for a salty night.
Troegs
Dead Reckoning Porter
:
Representation: .95
Accessibility: .925
Style: 1.0
Personal Preference: 1.0
Total Score: 3.875 Flags