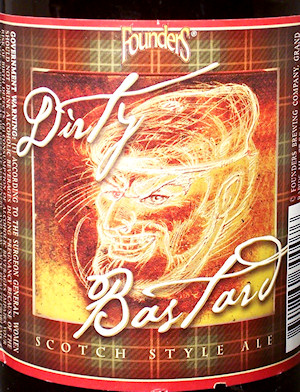 Founders
Dirty Bastard
Scotch Style Ale:
I gotta say,
Founders
is pretty hardcore. The beers I've tried so far are all bold but not extreme. No, wait: I take that back ---
Devil Dancer
Triple IPA is extreme. But be it known, good citizens, that the boldness continues with Dirty Bastard. The Scotch Style Ale is "up there" on my list of faves. With medium to full body and plenty of toasty malty goodness, Dirty Bastard has a taste of sweetness to go with the bitter punch. Finishing dry and bitter, your mouth wants more. There's plenty of flavor in this brew so take your time and savor it. From a bottle, pour into a chalice-style glass and use small draughts and long swallows. Make sure to breathe deeply through your nose and enjoy the wine-like bouquet before digging in. Feel free to make yummy noises as well.
Now, yes I said your mouth wants more. The little sips turn to greedy swallows by the time you're done, but at 8.5% abv, maybe you only need one. The admonition on the neck label will egg you on as if the bottle itself is calling you a sissy if you move onto something lighter. I won't, though. This beer is pretty big so don't be ashamed if you need to step away.
Who should try it? Scotch Ale people, Barleywine lovers, and hardcore Ale folks. There's something of a Dirty Bastard in everyone.
Founders
Dirty Bastard
Scotch Style Ale:
Representation: .95
Accessibility: .85
Style: .95
Personal Preference: .97
Total Score: 3.72 Flags