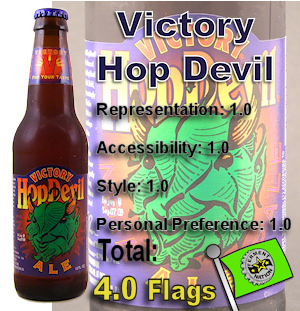 The brewers at
Victory
have laid it out pretty clearly in their own description of Hop Devil:
"Bold, spicy, and menacingly delicious..." I could probably end my review right there ... but you know I won't.
Hop Devil
has just the right blend of style and accessibility to bring with you to any event: party, tailgater, barbecue, wedding, monster truck rally, or memorial service. Its versatility allows for pleasurable drinking from the bottle as well as on tap. Even when poured into a plastic cup so as to avoid being pinched by security, Victory Hop Devil represents the finest in American IPAs.

Perhaps Victory's Hop Devil holds such a special place in my heart because it was one of my "gateway beers" into the craft world. Even still, whenever I go back to Hop Devil for refreshment and bold, spicy hop action I realize that nostalgia doesn't play a part in my enjoyment of this devilish beverage. Everyday usage or special occasion, Hop Devil satisfies every time. 6.7% abv is just right, too: Enough to provide body and warmth, but easy enough to sweat out while playing horseshoes or standing really close to a bbq grill.

By the way, Victory Hop Devil on cask: One of my fave IPAs on cask? Must be a winner, right? Answer: that depends. Here's the skinny: Had it twice at bars in Philadelphia (awesome bars, at that) but was disappointed. I wasn't sure how I would feel about it when I had it at the Victory brewpub in Downingtown, PA but I figured it was worth a shot (the third time being a charm and all that). My hunch was right... It was AWESOME!!! My conclusion: perhaps it simply doesn't travel well. Fresh as hell at the Victory location is definitely the way to go if you are in the mood for some hand-pumped VHD.

Also of note: Be on the lookout for Victory Wild Devil on the loose near you. It's Hop Devil brewed with wild yeast. I enjoyed it the first time I had it and I look forward to experiencing it on tap at Victory's Beer Dinner on Thursday, May 28th at the Pour House in Westmont, NJ.
So as for the scoring of
Victory
Hop Devil
, what would you expect if I told you this brew is in the running for my one "desert island" beer. There is competition, but not a whole lot. Perfect score.

Representation: 1.0
Accessibility: 1.0
Style: 1.0
Personal Preference: 1.0