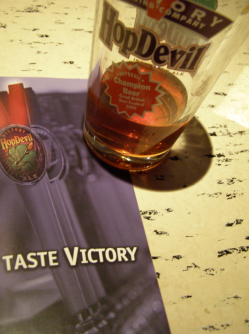 Victory Brewing Company
's Beer Dinner at the
Pour House
in Westmont, NJ was a resounding success! All the guests seemed to enjoy the event immensely. Speaking for myself and the Veep, the food and beer pairings were expertly matched and the entire event went off without a hitch. Thanks to the staff of the
Pour House
for bringing
Victory
into our backyard. Kudos to the waitstaff for awesome service. Special thanks to Pete Danford from
Victory
who briefly introduced the event and then generously spent time at each and every table answering questions and conversing with the guests.
First thing first: Before any talking or eating came the beer. An introductory beer was served in a take-home Hop Devil pint glass. Pretty cool. The first beer was Victory's infinitely drinkable Lager, a German-style lager with a refreshing light body and color. I recently had this beer in a bottle and much prefer it on draft!
The first course was an arugula salad dressed with a light vinegrette (is it possible for food to be light and rich at the same time? Mission accomplished.) and topped with fried gorgonzola. Creamy and wonderful. Powerful good. Victory's Braumeister Pils accompanied this course. The German-style single-hop unfiltered pilsner gives body to a normally extra-light brew. A bit hoppier (and a bit deliciouser) than your average pilsner. I prefer it over Prima Pils by just a smidge.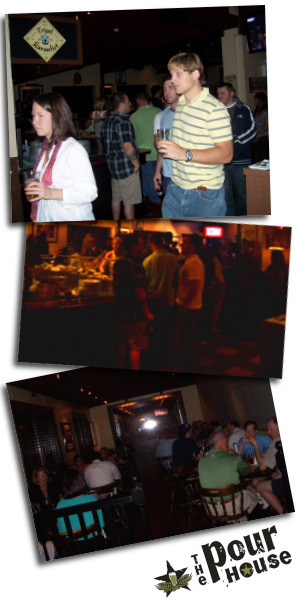 Mad King's Weiss came next. A little sweetness and spice blends with citrus in an un-tart kind of way. Made with Belgian yeast and malts and German hops, the flavors perfectly complemented the scallops they accompanied. Crusted and slightly singed, the scallops were topped with a fresh salsa. The first two courses with the brews could stand alone as a nice, light summer meal. But then again, why stop if you're on a roll?
Wild Devil rocks. Smooth as all get-out on tap. A touch of wildness from the wild Brettanomyces yeast gives Wild Devil a funk that I like. It finishes a little less hoppy than traditional Hop Devil, but that is just what the lamb chops needed. Potatoes au-gratin and charred asparagus finished up the hearty main course. Lamb has a little wilder flavor than your average meat (especially when done to perfection) and Wild Devil shared the spotlight with the chops. Sublime.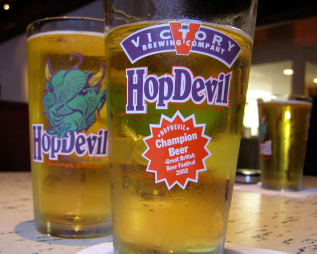 Desert was a fried ice cream pastry with real whipped cream and fresh mint leaves. Good Lord. Smooth and sweet with fresh ingredients but not overwhelming... just like the Baltic Thunder that finished off the meal. I said it before: Boom! Perkuno's Hammer is not completely lost after all.