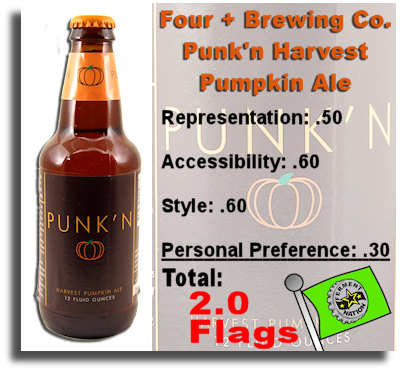 Four + Brewing Company Punk'n Harvest Pumpkin Ale:

Okay, so... not my favorite. Perhaps this particular six-pack is simply too old to be enjoyed properly (My sample was bottled on 8/15/2008) and maybe a really fresh draft from the brewery in Salt Lake City... Alright, I'm done apologizing. This beer isn't very good.
The light-medium body is the biggest positive, but the flavor is a bit funky and metallic and the pumpkin aroma isn't very exciting. The finish of this beer is akin to that of a pale ale, so I'm not giving up on
Four + Brewing
just yet. Maybe their more standard beer offerings are more palatable. Then again, typically an awesome brewery does an awesome job with pumpkin beers (just refer to last year's
Ultimate Pumpkin Showdown
) so I don't know what to think.
Punk'n is fairly thin for an Ale and doesn't represent the Pumpkin genre very well. Stylistically, Punk'n doesn't bring much to the table. Accessibility is unfortunately lacking because of the weird presentation of the pumpkin essence. Don't expect good scores from this one. And if you're shopping for pumpkin brews to bring to a Halloween party or to Thanksgiving Dinner, choose something else.

Four + Brewing Company Punk'n Harvest Pumpkin Ale:
Representation: .50
Accessibility: .60
Style: .60
Personal Preference: .30