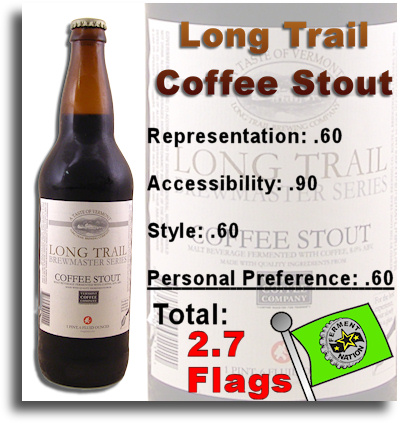 Long Trail
Coffee Stout
When you pour this beer slowly as recommended "for the best experience," you get no bubbles, no head, no effervescence at all. First sip: coffee yes, stout yes. Seems pretty good. Certainly not a disaster. Sips 2-5: good, but here's the problem: this beer is neither very coffee-esque nor very stoutish either.
Long Trail
has done a good job brewing this, because I don't really taste the 8.0%abv, but to be honest, this is underwhelming.
No offense meant to
Long Trail
, but this seems like a "beer of convenience."
Long Trail
is in Vermont, the Vermont Coffee Company is in Vermont. If I were feeling snarky, I would say this beer is as average as Vermont itself. I mean Massachusetts has Bean Town, and Harvard and the Kennedys. Maine has rugged sea coasts and lobsters, and Vermont has...well. But I'm not in a snarky mood, so I will say this is a solid beer, but I would rather have a superior stout like
Guinnness
or
Samuel Smith's Oatmeal Stout
or a kick-ass coffee like
Southern Tier's
Jah-Va Imperial Stout
or even pour some Kahlua in my coffee. I appreciated Long Trail's understated berry taste in their
Black Beary Wheat
, but I don't usually enjoy berry bears. But I love coffee, and this just didn't get me revved up or excited. Good but not great.
Long Trail
Coffee Stout
Representation: .60
Accessibility: .90
Style: .60
Personal Preference: .60
Total: 2.7 Flags
Read our other
Coffee Reviews
Read our other
Stout Reviews