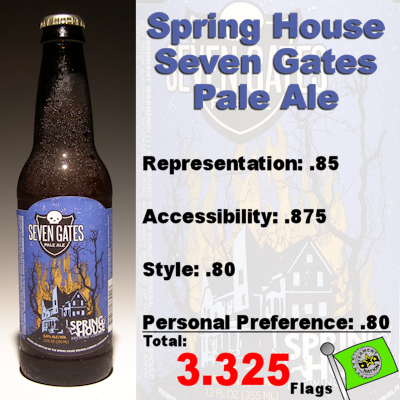 Spring House Brewery
Seven Gates
Pale Ale:
Earlier this summer I had the chance to visit the Lancaster, PA area and sample some interesting craft brews. Spring House Brewing Company was recommended to us by Pam and Dallas at the BandB. The brewmaster Matt was hanging out in the tasting room providing anxious samplers with some tasty tidbits. The brewery is pretty much located in the main room of a barn converted to to a brewmaster's work. The loft upstairs served as a nifty tasting room where the choice selections were freshly tapped and served with a smile. And why not? Some tasty beers were on display.
The Atomic Ray Gun Imperial Red was quite tasty and deserves a review of its own, but I was really impressed with the Seven Gates Pale Ale; I was so impressed that I bought a case of it right off the brewery floor and took the bottles home to enjoy over the course of the hot, nasty summer in the Delaware Valley. I was enchanted by Seven Gates' drinkability and smoothness. Just a little hoppy bite and really nice dry finish made my tastebuds jump up and ask for more.
Gotta be honest with you, dear citizens, the super-fresh draught selection right from the brewery kicks a lot of butt.... the bottled version, while good, is a little less spectacular. On tap, Seven Gates is comparable to some of the more widely known and respected pale ales on the market today. So clean in its finish and balanced in flavor... Man, that's impressive! An awesome session beer. Now when it comes out of the bottle, there is something lost in translation. There is still a little hoppy bite but the finish is not as clean. there is a little bit of a funk present in this beer that I don't remember being there the first time I tried it. Representation and Accessibility scores drop here, like the blue book value of a car as soon as it leaves the lot.
I still like the pale ale from Spring House... don't get me wrong! In fact, I had it with ham and potato salad for dinner tonight, and it seemed to complement the salty fare quite nicely. So maybe I would recommend this brew as a companion to salty food. Yes, I would certainly recommend that. So at a barbecue, go crazy with the Spring House Seven Gates as long as you are pounding down potato chips and so forth. But when the eating stops but the heat stays on you, cool off with something a little smoother. The good news: The Lancaster area may find Spring House beers a bit easier to get a hold of on tap if the brewery opens up a brew pub or similar establishment that is a little more accessible to the general public. I'm not spreading rumors or anything... I'm just sayin'...
Overall, my experience with Spring House Seven Gates Pale Ale has been a really good one. If you see it on tap, grab it quick! If you see it in cases of bottles, invest in a sixer first to test the waters.

Spring House Brewery Seven Gates Pale Ale:

Representation: .85
Accessibility: .875
Style: .80
Personal Preference: .80
Total Score: 3.325 Flags