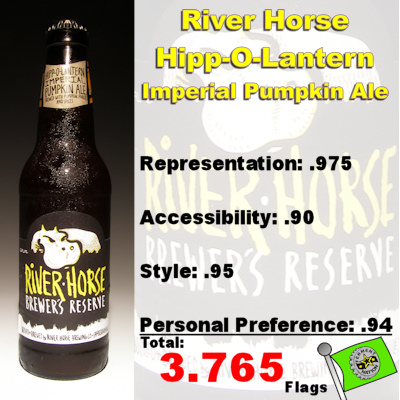 River Horse
Hipp-O-Lantern
Imperial Pumpkin Ale:
There are lots of lovely things going on in this Imperial Pumpkin from
River Horse
. The "Brewer's Reserve " line has been impressing me since the
Double Wit
a few years back and continues straight through the
Hop-a-Lotamus
(which I recommend to just about everyone, by the way).
Hipp-O-Lantern
has plenty of body and a boozy pumpkin essence, yet somehow remains dry at the finish.
I haven't gone completely bonkers with pumpkin brews yet this season so it is with renewed vigor that El Presidente takes on the task of organizing the citizenry's autumnal beverage selection. If you've been following
Ferment Nation
over the past two years, you will realize the depth of coverage we try to provide: The Ultimate Pumpkin Showdown is worth a look (and a listen, by the way... check out our podcast). And last year,
Charlie's Pumpkin Patch at The Institute
was fairly epic as well. And so it begins again...
First things first: Pour Hipp-O-Lantern into a nice glass. Perhaps a thistle, tulip, or even a wine glass. This will keep you from chugging this gentle giant from River Horse. Don't lose all the subtle spice notes by greedily pouring it down your gullet. And take a moment to check out the aroma. Fairly mild, but a treat nonetheless.
Flavor: The warm nutmeggy-clovish-allspice-rific essence combined with the fairly potent alcohol content (an imperial 9% if I'm not mistaken) give Hipp-O-Lantern an after-dinner cordial feel without invoking dessert. The spices are first when you take a sip, but the pumpkin is not far behind. This reminds me of Weyerbacher's Imperial Pumpkin Ale, though Hipp-O-Lantern is slightly sweeter with less alchohol bite.
Finally: The beer kicks in and you remember that you are drinking an ale without apologies. Hops and malt make their presence known. The finish is a little dry, which reminds me of
Dogfish Head
's
Punk
. Overall,
Hipp-O-Lantern
is a fine Imperial Pumpkin Ale with a groovy vibe. Oh yes, it is completely appropriate to bring to an Oktoberfest, Halloween party, or even Thanksgiving dinner. Seasonal but not gimicky,
River Horse
Hipp-O-Lantern
delivers a warm pumpkin punch wrapped in a velvet glove.
River Horse
Hipp-O-Lantern
Imperial Pumpkin Ale:
Representation: .975
Accessibility: .90
Style: .95
Personal Preference: .94
Total Score: 3.765 Flags