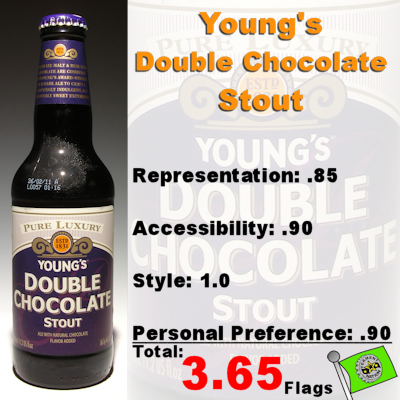 Young's
Double Chocolate Stout
:
I am at a bit of a disadvantage reviewing this beer, because previously this very night I have also tasted, drank, and reviewed an imperial stout of unknown alcoholic percentage. So, I might be missing some subtle scents and tastes with this beer, but I will try my best. There is kind of a generic beer smell coming from the bottle. From the glass I do not get much more in terms of aroma, but if experience has taught me anything, it has taught me not to judge a beer by its smell. Not much in the head department, no lacing to speak of.
Ooh! First sips taste really, really like chocolate. This is very nice. Lots of cocoa flavor her. The neck label reads, "Chocolate malt & real dark chocolate are combined with Young's award-winning rich dark ale to craft a satisfyingly indulgent, but never overly sweet experience." I would have to agree. At 5.2% abv, this beer tastes kind of like a dessert beer but doesn't taste boozy and doesn't have the high booze content dessert beers usually have. This beer is smooth, easy to drink, and comes through with its advertised "double chocolate" taste. Other brewers would take license to make "double chocolate" to mean double the alcohol, but not double the taste. Young's gets it right with double chocolate taste without making it double boozy. Nice job. This beer would appeal to fans of chocolate (buy this beer for the lady in your life) as well as stout fans; however, advanced stout fans might think this is a novelty beer.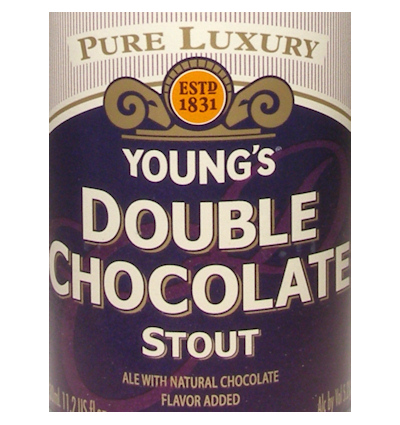 Since the chocolate taste really comes through in this beer, representation, style, and overall quality points will be high.
Young's
knows what they are doing. This makes me wonder if they have a pumpkin beer. I would love to taste some of their other flavored beers. American breweries do some things incredibly well - they have an adventurous and bold spirit when it comes to experimentation, but if you want some beers done right, you can't go wrong with some old school beer brewing counties, and England is one of those nations. I love
Samuel Smith
beers, and this
Young's
Double Chocolate Stout
just made a major blip on my beer radar. Quality and skill define this beer. Like a proper Englishman,
Young's
keeps their word when delivering double chocolate flavor. I will have to drink this again when I am more sober to verify, but this is bloody well good!
Young's
Double Chocolate Stout
:
Representation: .85
Accessibility: .90
Style: 1.0
Personal Preference: .90
Total: 3.65 Flags