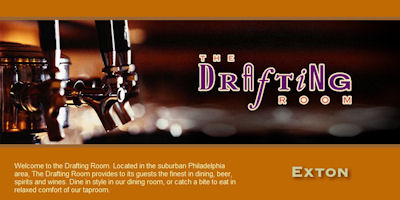 Last Saturday I had the distinct pleasure of sampling some beers from
Rogue Brewery
and even some imported (from Oregon) cheeses from the
Rogue Creamery
with a lovely friend of mine and the newest recruit to
The Ferment Nation
, Citizen Elizabeth. If you have never been to
The Drafting Room
in
Exton, PA
, be on the look-out, because you just might miss it. I know I did! It is nestled in a strip mall on Route 100 (the Pottstown Pike). But don't let the unassuming location fool you. They mean business. They had a lot of great Rogue beers on tap, a nice bottled beer list, and even a full-page selection of single malt Scotch! Yowza!
Photographs are compliments of Citizen Elizabeth
We started off the event with a flight of 5 beers of the 14 they had on tap. The beers we sampled ranged from the uber-chocolately
Double Chocolate Stout
and the crisp and hoppy
XS Double IPA
to the cloudy yet satisfying
Chatoe OREgasmic
ale and
Rogue
's tried-and-true
Shakespeare Stout
(on nitro) and
Double Dead Guy Ale
. I think I can name the
Double Chocolate Stout
and the
XS 2x IPA
as the winners of the day, because they were truly tasty and bold in flavor (
Citizen Elizabeth does not tolerate wimpy beers!
). In fact, compared to those two beers,
Double Dead Guy
seemed a little washed out. But beware!
Double Dead Guy
sneaks up on you. Don't be fooled by its smooth flavor - it packs a punch.
You can see from the photo above that the
OREgasmic Ale
as well as the
Double Chocolate Stout
were very cloudy in appearance. That didn't stop them from being quite tasty.
Double Chocolate Stout
looked and tasted like a wonderfully adult chocolate milk.
The cheeses from the Rogue Creamery were noteworthy as well. The sampler consisted of a cheddar, an outrageously delicious blue cheese, and a chipotle cheese, which went quite nicely with
Rogue
Chipotle Ale
(
HINT: If you are looking for a nice chipotle flavor, skip the ale and dig into the cheese
). They were accompanied by an apple chutney and an apricot jam. We rounded out the beer tasting with a glass of
The
Drafting Room
's
17th Anniversary Lager
, which was brewed by
Troegs
. Tasty, but nothing spectacular. Overall, this was a very nice event. There were at least 5 or 6 Rogue beers we did not try that day, and we skipped on the Oregon imported oysters (shipped overnight express), but I would say that there was not a bad beer in the bunch we tried. The food was tasty, and the service was great, too. Drinking good beer on a sunny Saturday afternoon is always nice, but enjoying those things with a friend made it great. Many thanks to Citizen Elizabeth!