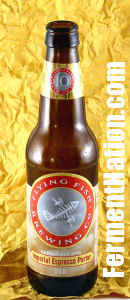 Flying Fish
is a microbrewery not far from the capital city of FermentNation. Hot off the press is the
Imperial Espresso Porter
. Ah, porter. That lovely style lounging halfway between ale and stout. Usually known for high drinkability scores because of their smoothness and stable body, porters are just as likely to be experimented upon; coffee and chocolate are good choices because of their smooth bitterness which complements the style itself. (Side note: Stone makes a smoked porter that will knock your socks off.)
Check out the bottle:
Flying Fish's
Imperial Espresso Porter
has a cigar ring on the neck with a 10-year logo reminding us that microbrews are here to stay. Decorated with coffee beans, the label invites us to feel the jolt of this lovely beer. Dark as espresso, this smooth porter definitely showcases the coffee flavor without hijacking the porter feel. Sometimes a coffee
stout
will go bonkers on the java flavor, giving too much away for a true beer lover but this
porter
seems to hold true. With a lovely balance and medium body, it earns high drinkability points. Smooth mouthfeel and malty sweetness don't hurt the cause either. Can't wait to try this one on tap.
Tactfully jazzy and extremely drinkable. After killing the first one quite quickly I immediately opened a second. If you try pulling that stunt, I recommend you not have anywhere to go: The Imperial Espresso Porter weighs in at 8% abv. I had bought one to try (since I had never seen it before) and one to share with friends. What friends? They can buy their own. And they should.
Flying Fish
Imperial Espresso Porter
:
Representation: .9
Accessability: 1.0
Style Points: .8
Personal Preference: .8
Total Score: 3.5 flags