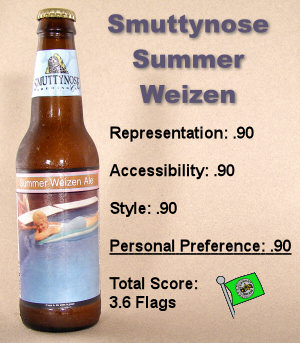 Smuttynose Summer Weizen Ale:
A little drier and crisper than a farmhouse ale and a little lighter than a traditional unfiltered wheat ale, this Smuttynose is a dynamite addition to the Summer lineup. It's a really nice cross between "summer" and "weizen".


The ale is hazy and kinda wheaty, so much better poured into a glass than straight out of the bottle. Not too crazy in terms of funky flavors; just enough citrus to quench a thirst and keep things light. I think this would go great with a big salad at a picnic. Maybe one with some chicken or citrus fruit in it. Won't fill you up or knock you out. Quite refreshing at 5.0% abv.
The body is pretty light but not invisible. Honestly, I'm a stickler for drinking beer from the proper vessel (or something approximate) but this beer would most likely taste just fine from a plastic cup shared among friends. It's worth drinking like that, as long as you get a taste.

Smuttynose Summer Weizen:
Representation: .90
Accessibility: .90
Style: .90
Personal Preference: .90
Total Score: 3.6 Flags