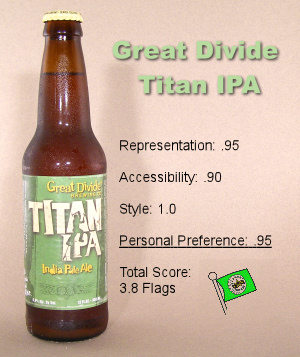 Great Divide
Titan
IPA:
First things first: Give this sizable brew a brisk pour to conjure up a soapy head. Nice flowery flavor and aroma and then...bang! Hops. Lots of 'em. Pleasantly bitter, especially at the finish. Pale in the beginning, smooth at the swallow, and then all hopped up at the end. Dry and bitter with a hint of alcohol to warm you all the way down the hatch. Creamy mouthfeel and a smooth delivery.
Great Divide
is well known for its big, rich beers like
Hercules
and
Yeti
. I haven't had those in quite some time, so they haven't been reviewed yet, but keep Great Divide on your radar. Yes, you. The beer enthusiast for whom I write these reviews. You love your beers, don't you? I wouldn't steer you wrong. Check out anything by
Great Divide
. Just be sure to check the alcohol content on these suckers: Titan IPA weighs in at 6.8% abv.
You know what
Titan
IPA reminds me of?
Arcadia
Hopmouth
. That's been awhile too so don't get pissed off if they don't taste exactly alike. But I would like to check them out side by side.
Since it's summertime, I'll give my barbecue recommendation. Titan has a certain sweetness to it, but it takes a backseat to the hoppy, spicy bitterness. It would contrast nicely with a coconut tillapia. I don't know -- I'm not a chef. But try it and email your results.
Great Divide
Titan
IPA:
Representation: .95
Accessibility: .90
Style: 1.0
Personal Preference: .95
Total Score: 3.8 Flags