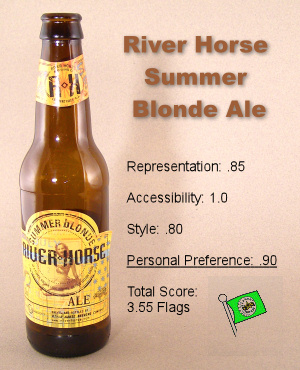 River Horse
Summer Blonde
Ale:
Quite a nice summer ale. Super drinkable but not overly stylish. The wheaty flavors are there, but don't stand out too much. Some citrusy notes are there as well, but not overpowering. Basically, this summer brew has all the elements that give summer ales their seasonal flare but they seem blended a bit too well. There isn't too much complexity going on here. Actually, a quick review of the label reveals that simplicity is the intended summertime state that summer drinkers or chillers-out should experience all summer long, especially while maxin' and relaxin' with a summer brew. Take this one to a hot weather tailgater or just right to the screened-in porch.
River Horse
Summer Blonde
is extremely easy-drinking and light to medium bodied. Could be a go-to for less experimental summer beer drinkers. Kinda like Sam Summer, but not quite at the same level. Very pleasant. Everyone should try it; Most people will like it. Beer snobs will want something just a little sexier.
From experience:
Goes pretty good with dry-roasted peanuts.
River Horse
Summer Blonde
Ale:
Representation: .85
Accessibility: 1.0
Style: .80
Personal Preference: .90
Total Score: 3.55 Flags