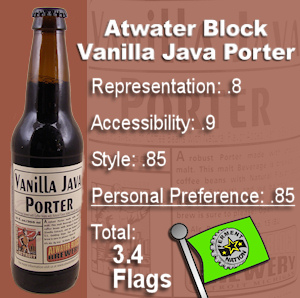 Atwater Block
Vanilla Java Porter
Being no stranger to vanilla, java, or porter, I was excited to review this particular beer from
Atwater Block
. However, I was also hesitant at first because of the presence of vanilla, especially after reading that they add plain old vanilla extract to the brew (couldn't they slow roast imported vanilla beans over an open fire or something?). I was also ready and willing to be critical, having recently sampled other coffee flavored brews.
Needless to say, the
Vanilla Java Porter
was disappointing because of its tameness and yet simultaneously exciting because of its accessibility. This is clearly a drinking beer and not a sipping beer. Unlike the 8%
Flying Fish
Espresso Porter
or the 12%
Southern Tier
Jah-Va Imperial Coffee Stout
,
Atwater Block
Vanilla Java Porter
(at 6%) strikes me as an after-work beer and not an after dinner-beer. You get just enough vanilla and coffee aroma and taste as you sniff before you drink as well as on the back of your tongue when you let it bubble down your throat.
The subtle flavors make this a great transition beer, helping traditional drinkers bridge the gap between everyday porters and over-the-top imperials. Sadly, of course, it could also be a gateway beer, enslaving unwary drinkers to their new dark masters of the coffee brews.
Atwater Block
Vanilla Java Porter
Representation: .8
Accessibility: .9
Style: .85
Personal Preference: .85
Total: 3.4 Flags