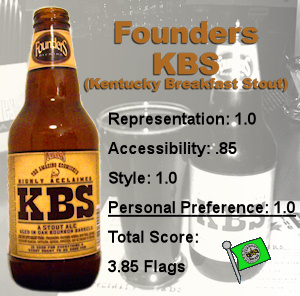 Founders KBS:
The Amazing Kosmicki's Highly Acclaimed
KBS
is good for what ails ya. Warms you all the way to your very skeleton.
Founders
has done it again -- pushed the bounds of normal everyday brewing and kicked boring beers in the groin. How serious is
KBS
? It takes
Founders
own
Breakfast Stout
behind the woodshed to teach it a lesson. Not that the Breakfast of Champions needed any more complexity -- what with double chocolate, oatmeal, and coffee and all. But soak that breakfast in a bourbon barrel and you've got an elixir that's guaranteed to make even the most potent snake oil look and taste like a glass of muddy water.
KBS
is a little drier than the
Backwoods Bastard
and is definitely a stoutish brew with excessive flavor. Step right up and experience a revelation... A veritable sip of Salvation if ever there was one. Stout lovers and Bourbon cask-conditioned lovers need to find this beer if you can. The body is outstanding and the bourbon essence is clearly evident though the bitter chocolate and coffee notes are not overpowered. Black as pitch and deep in flavor, it sticks to your ribs and then kicks you in them. At 11.2% abv, this is a breakfast for the truly fearless (or those with nothing to lose). Now quit stomping around! El Presidente needs his medicine.
Founders
KBS:
Representation: 1.0
Accessibility: .85
Style: 1.0
Personal Preference: 1.0
Total Score: 3.85 Flags
Ferment Nation Beer Blog