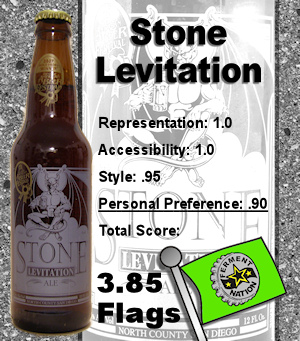 Stone Levitation
In the craft brew world, a few names stand out as true innovators... Stone is one of them. With the near-perfect-just-out-of-the-average-beer-drinker's-league (Yes, that would be a reference to Arrogant Bastard) to more extreme versions of the same (Double and Oaked) and even mind-melting hop events likely to bring about the end of civilization (Ruination), Stone presents nothing but unabashed quality. They spare no expense and make no excuses.
So who could make a brew so light in body and low in alcohol (4.4% abv) that the term "session beer" needs to be redefined? Stone, of course. In order to fight the effects of a brew that drags you down, one needs the power of Levitation. Stone Levitation has an amazing cache of flavors stored in a very light body. Dry and hoppy, this ale is extremely drinkable and could, given enough servings, allow the drinker to conjure up a supernatural levity that defies the very laws of nature.
Present Stone Levitation to those who seek the knowledge which you have already attained. Small beer drinkers who are looking for something more might be brought across if only they had a beer worth trying... a beer floating just above the rest. And so behold the power of Levitation.
Stone Levitation:
Representation: 1.0
Accessibility: 1.0
Style: .95
Personal Preference: .90
Total Score: 3.85 Flags