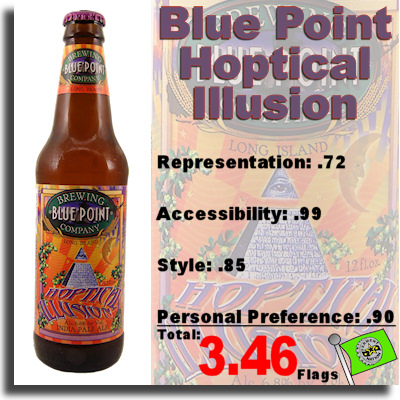 Blue Point
Hoptical Illusion
:
This India Pale Ale from Long Island, NY is just over the edge of Pale Ale, but not quite reaching the upper echelon of IPA territory.
Hoptical Illusion
is actually pretty malty, but not in a rich, dark, warming kind of way (like you might get from a bock or a winter warmer). Rather, the malt flavors are quite pale indeed with crispness and dryness that work well with the extra hops to creatte a pretty well-balanced brew. The body matches the color nicely -- pretty light but not pilsner-y. Almost light enough to be a session beer, but 6.8% abv doesn't exactly fit the description. Even though this review was written smack-dab in the middle of winter, I would recommend
Blue Point
Hoptical Illusion
as a fine barbecue beer. I'm kinda looking forward to sampling this brew again with some grilled meats like chicken or pork (mmmm... bratwurst).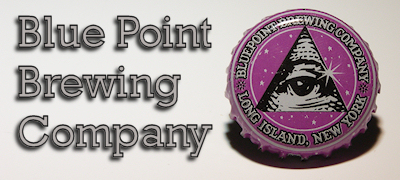 And though I like this beer a lot, expect some strange scores. Representation: This would be an awesome Pale Ale but it isn't too terribly hoppy and therefore not the best IPA in town. Accessibility: there's the sweet spot. Style: Good, not great. Personal Preference: Like it very much, don't love it.
Do I recommend it? Oh yeah! If you like Pale Ales but crave a little more jazz and pizazz, this is the perfect beer for you.
Hoptical Illusion
won't blow hop-heads away but remember the barbecue!! The "all-seeing eye" may not be able to understand everyone's tastes but you have to admit ... El Presidente gets pretty close.
Blue Point
Hoptical Illusion
:
Representation: .72
Accessibility: .99
Style: .85
Personal Preference: .90
Total Score: 3.46 Flags