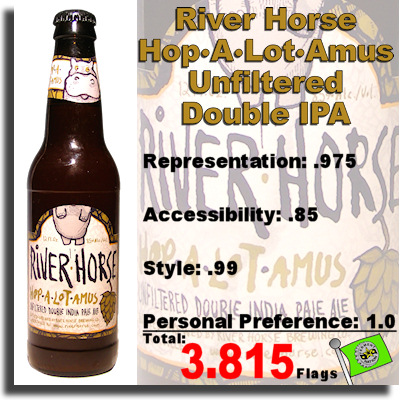 River Horse
Hop-a-lot-amus
:
The unfiltered double IPA from Lambertville, NJ is just as hoppy as you want it to be. Hidden beneath the tranquil murkiness is a dangerous beast. At first glance,
Hop-a-lot-amus
looks like a dark hefe-weizen. But the aroma is a tantalizing blend of malty sweetness and floral hops -- perhaps a bit of oak or vanilla sneaks in there as well. So the safari continues.
The taste: There's a rich, malty skeleton holding up the strong body of the
Hop-a-lot-amus
. The earthy, oaky, vanilla-y flavors come next, but lets not short-change the featured flavor of this double IPA: Hops... A-lot-amus. The bitter blast of floral hops swirls up from the depths of this cloudy beverage, beginning with the foamy head and continuing all the way through the creamy mouthfeel. A little malty up front, then hoppy, then a little more malt, and a lovely bitter aftertaste. It does linger for awhile. The only way to quell the bitterness is to have another sip. And the process begins all over again.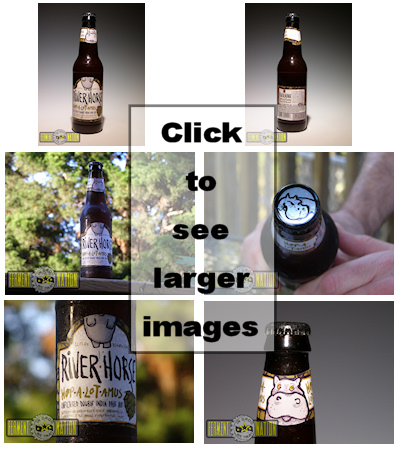 The complexity and balance of
Hop-a-lot-amus
hold to the standards of other
River Horse
offerings like
Belgian Freeze
,
Hefe-Rye-Zen
, and
Double Wit
, but I'm of the opinion that
Hop-a-lot-amus
outshines them by a slight margin. Keep in mind that at 8.5% abv,
River Horse
Hop-a-lot-amus
is not exactly a session beer. Even still, the creaminess and hoppiness make me fantasize about this brew on hand-pumped cask. Please give ol' El Presidente a heads-up if it pops up anywhere. Please.
Pretty Please
.
River Horse
Hop-a-lot-amus
:
Representation: .975
Accessibility: .85
Style: .99
Personal Preference: 1.0
Total Score: 3.815 Flags