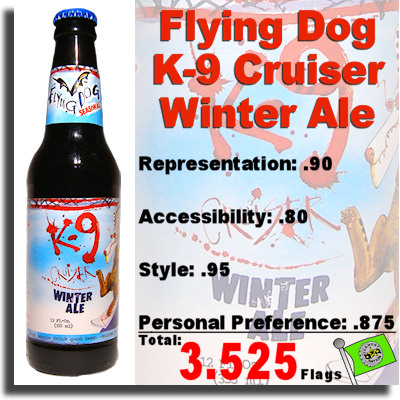 Flying Dog
K-9 Cruiser
Winter Ale:
This reddish-brown winter warmer has a pretty apparent malt flavor, but is just a bit light on the body. It isn't weak, however, since the hoppy bitterness creates an interesting finish. The aftertaste is bitter and lingers quite awhile.
Flying Dog
has some good stuff (like
Gonzo Porter
and
Double Dog IPA
), but they have a lot of brews I'm not 100% enthused about.
K-9 Cruiser Winter Ale
is pretty good but I prefer my malty beers a bit maltier and my hoppy beers a bit hoppier. Some exceptions exist, but those are extremely well-balanced brews that don't pop up all that often. I feel that
Flying Dog
K-9 Cruiser
would be really on the money if it had a bit more malty body and just a touch less bitterness. Then it would be approaching my perfect winter warmer scenario. Actually I may get a
K-9 Cruiser
and a
Gritty's
Christmas
and pour them into the same big-ass mug and see what happens.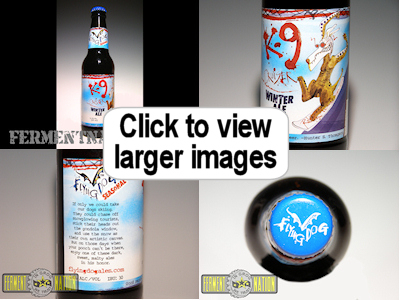 Flying Dog
K-9 Cruiser
is worth a try if you're a beer geek on a winter ale kick, but don't put it in front of a newbie. Stylistically sassy, the flavors don't blend together smoothly enough to convert a non-craft drinker.
Like
other winter beers: warming in your belly (6.4% abv does the job).
Unlike
other winter beers: no other tell-tale spices or flavors.
Flying Dog
K-9 Cruiser
Winter Ale:
Representation: .90
Accessibility: .80
Style: .95
Personal Preference: .875
Total Score: 3.525 Flags
Read our other [
Winter Beer Reviews
]