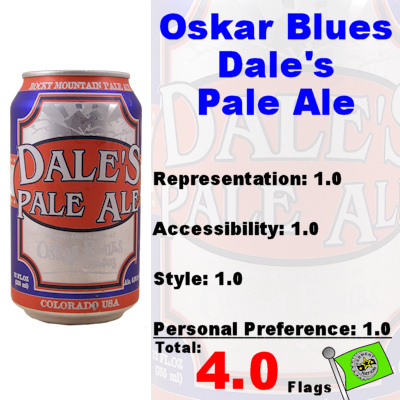 Oskar Blues
Dale's Pale Ale
:
I don't have to say much about this beer but when I get started I don't think I'll be able to shut up...
Straight from the mouth of the Oskar Blues folks: "A Huge Voluminously Hopped Mutha of a Pale Ale". That gives you an idea of what to expect but it doesn't prepare you for the perfection of this serious Rocky Mountain Pale Ale.
Many moons ago I took a hiatus from canned beer. I discovered the delights of imported and American craft brews and dark bottles soon became the order of the day. Of course tailgating often involves drinking like you're in a video game, so the occasional warping into Crappy Beer World became unavoidable. Dale's Pale Ale shatters the system by delivering a hoppy, malty, smooth and delicious Pale Ale in can format.
Dale's is smooth enough to drink right from the can. Some brews taste a bit mealy when they're glugged right from the metal to your mouth: The air gets in there and foam makes you belch out obscenities before you even get to enjoy the swallow. But not Dale's Pale Ale. Pour it into a glass and you have an even smoother experience. The malty flavors open up and the hops mellow out but the Ale remains Pale and the finish stays dry. I'm almost getting a toasty sweetness that isn't sweet... toasted coconut? No, I'm not crazy.
Hops balance the malt and at 65 ibus, it weighs in a little hoppier than Dogfish Head 60 Minute IPA. 6.5% abv is just enough to get you going in the right direction while remaining sessionable enough to rock the can all night long. Can I give you some comparisons? How about Sierra Nevada Pale Ale ... Victory Hop Devil... It's kinda the perfect beer.
Aside from being the most flavorful pale ale ever, Dale's Pale Ale is infinitely drinkable. Oh, and portable! Yeah, the can thing is pretty cool. Fits nicely into coolers and fridges.
By the way, find Dale's on tap whenever you can. It's just as wonderful no matter how it's served. So expect a perfect score from El Presidente: Pale, stylish, drinkable, and awesome.
Oskar Blues Dale's Pale Ale:
Representation: 1.0
Accessibility: 1.0
Style: 1.0
Personal Preference: 1.0

Total Score: 4.0