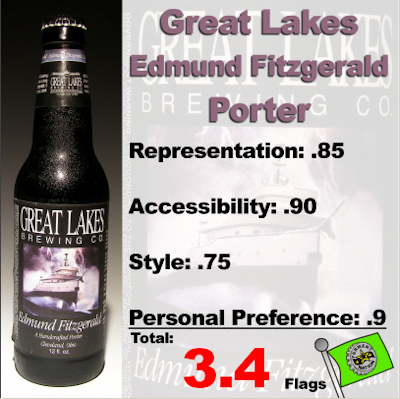 Great Lakes
Edmund Fitzgerald Porter
:
The first time I had this beer it was during
Philly Beer Week
and me and El Presidente were taking in some Great Lakes brews at
Treno pizza and wine bar
. I enjoyed it then, and I enjoy it now. The first couple of sniffs out of the bottle, do I sense a coffee smell? There is some roastedness and toastedness here. This is interesting, too, because I just reviewed
Fuller's
London Porter
, and I drank another
Troegs
Java Head Stout
, so I have some good comparisons here. Not nearly as tasty as the London Porter, but I think it has more going for it that Java Head, keeping in mind that Java Head is a coffee beer and this is not. It's also Shark Week, and I am watching an interesting shark attack show. Hopefully, I am not too distracted to accurately describe my tasting. Pouring the beer into a glass, there is a little too much head. Why so bubbly? Sometimes I think porters and stouts are too flat coming out of a bottle, so maybe I shouldn't complain.
The head has a pleasant smell, and this porter is smooth and easy drinking, so accessibility scores will be high. I've stopped to eat two chicken wings (yours truly grilled them) and the beer still has a head with some nice lacing on the glass. So there is definitely something to this brew. Typically, I don't talk about beers in the same terms of food in terms of presentation, but being able to see a creamy tan head in the glass and lacing on the sides of the glass improve my opinion of this beer. Presentation does count as far as I am concerned. No real strong flavors to report on, but there is some definite lingering roastedness on my palate. I think it is smoother drinking than
Java Head
, which makes sense because
Java Head
is 7.5% abv and E
dmund Fitzgerald
is 5.8% abv, which I think is a plus. This is already a better choice for a session beer.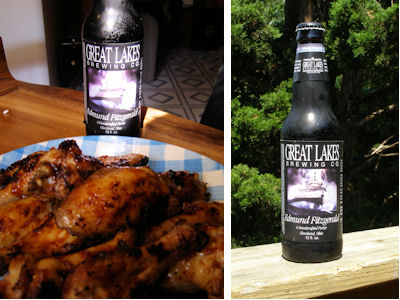 I have also had Great Lakes Commander Perry IPA, and this leads me to believe that Great Lakes is a pretty darn good brewery. It could have something to do with it being Shark Week, or the fact that I am eating some good home cooking and drinking beer on a Saturday, but I really like this. No exceptional flavors, but smooth, drinkable, and nice. I am also singing the Edmund Fitzgerald song by Gordon Lightfoot, too, so maybe my perspective is biased.
Great Lakes Edmund Fitzgerald Porter:
Representation: .85
Accessibility: .90
Style: .75
Personal preference: .9