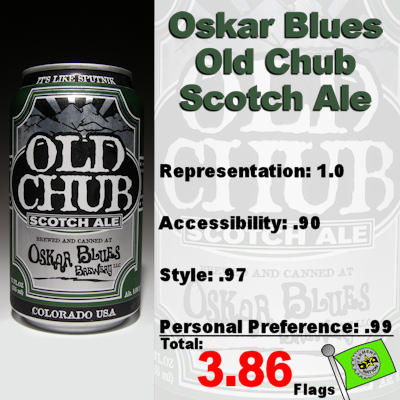 Oskar Blues
Old Chub
Scotch Ale:
This is a beast of a Scotch Ale with more than a mouthful of toasty malt smoothness. Old Chub is dense and big-bodied with a tremendously silky mouthfeel. This, of course, provided that the Chub is poured into a glass. Honestly, out of the can, the 8% malt milkshake is a little funky, so pouring is enthusiastically advised.
Once in the glass, the aroma doesn't pack much of a punch but put it to your lips and take a swig. Black and toasty without bitterness, this creamy Scotch Ale will completely satisfy your malt craving. Almost too smooth, at 8% one must be careful not to overindulge. I, would rate this beer pert near perfect but for that one Accessibility factor. Tough call because it isn't boozy in the slightest, but how many of these can one really drink?
Gotta be honest, it's smoother than another of my faves,
Founders
Dirty Bastard
.
Old Chub
is less boozy and smoother with a richer body and color (
Old Chub
is black while
Dirty Bastard
is a deep reddish-brownish-blackish). Overall, it rocks as a Scotch Ale and as a beverage in general.
Oskar Blues is a serious contender for El Presidente's National Favorite Brewery Bestest Beer Maker of Beeraholic Beverages in the Whole Wide World Award.
Oskar Blues Old Chub Scotch Ale:
Representation: 1.0
Accessibility: .90
Style: .97