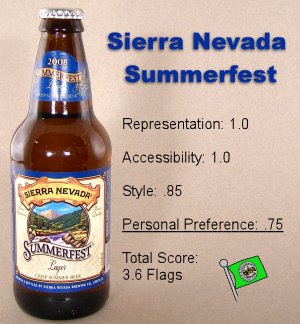 Sierra Nevada
Summerfest
:
Not a "summer ale". Actually, Summerfest isn't even an ale. More of a celebration of summer, Sierra Nevada Summerfest is a lager that is light and refreshing, easily drunk in honor of the thirsty months ahead. Though I've already noted that lager isn't my favorite style, I must say that I'm kinda sorry I don't have another Summerfest in front of me right now. Defininitely one of the best lagers I've ever had.
Summerfest is crisp and dry with a light to medium body. Really refreshing. This is a beer that will beat the crap out of any of the big mass-produced lagers that we beer officianados find a bit boring. Way more flavor comes out when care and pride go in, so pick up some of this brew if you need to renew your faith in lager. It's a safe bet since Sierra Nevada don't make no junk.
In the context of the summer ales I've been tasting, my preference remains with the wheaty, citrusy ales that have a more seasonal flair but this lager could certainly make the jump from seasonal to perennial. Sierra Nevada's offerings are more interesting and unique than anything those big breweries are putting out there, regardless of the season.
Sierra Nevada
Summerfest
:
Representation: 1.0
Accessibility: 1.0
Style: .85
Personal Preference: .75
Total Score: 3.6 Flags