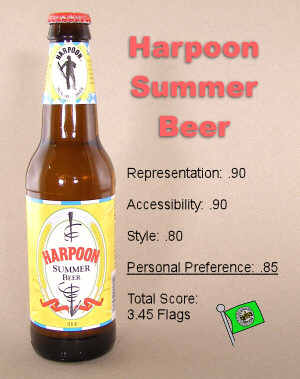 Harpoon
Summer Beer
:
Much like
Sierra Nevada
Summerfest
,
Harpoon
Summer Beer
is a lighter, more refreshing version of a particular style. This German-inspired Kolsch style beer is very crisp and clear. Light by their nature, kolsch beer are easily drinkable without ever sacrificing that real beer flavor. This particular one is really light, fine-tuned for the heat of summer.
Actually, this beer is even light enough to drink right from the bottle. I usually prefer pouring into a glass, of course. This one I split between bottle and pilsner glass. Either way, I was really satisfied. I think that's the word I'm looking for: satisfying. Lots of flavor, though nothing crazy. Light enough for drinking, but not a candy-ass brew. Pretty traditional, so style points won't be off the charts, but solid representation.
5.0% abv isn't over the top, but keep in mind when sampling Harpoon Summer Beer that it smells and tastes like BEER. Some non-beerheads can try a wheaty beer or citrusy beer and say, "Ooh, that's different." But a Kolsch dosen't skimp on the beeriness and Harpoon Summer doesn't skimp either. Harpoon would go well with barbecued chicken, fish, or sausage. Or whale.
Harpoon
Summer Beer
:
Representation: .90
Accessibility: .90
Style: .80
Personal Preference: .85
Total Score: 3.45 Flags