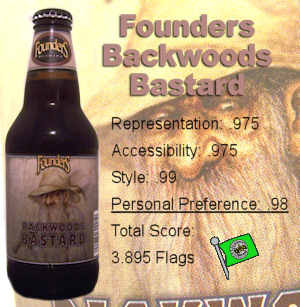 Founders Backwoods Bastard:
Bourbon Barrel Aged Ale is fairly dreamy. Don't let the title fool you--this is no Deliverance style backwoods hillbilly rotgut. No, not at all. This groovin' full-bodied ale has enough sophistication to intrigue the palate of the most cosmopolitan among us. The bourbon flavor is apparent, especially if you slug down some of this brew from the bottle (Somehow the aeration gives it a more "shot o' whiskey" feeling to it); but to really experience the complexities of the bourbon and caramel flavors, please pour this backwoods beauty into a chalice-style glass. Besides drinking it, try not drinking it. A few bottles of this brew are worthy of collecting a little dust next to my barleywine collection. The full body, the caramel-like sweetness, the swirling sea-foam head, dry wine finish and fruity nose lend themselves to comparisons with rich ales like the barleywine style. And hell, at 10.2% abv, it should age nicely right alongside my Insanity (Bourbon Barrel aged Blithering Idiot by Weyerbacher).
Who should try this beer?
Anyone who is adventurous and eager to try new things.


Anyone who likes other bourbon-aged brews


Anyone who likes bourbon


Anyone who likes barleywine


Anyone who is slightly nervous about the man on the label hacking them to ribons if you don't squeal like a piggy
Founders Backwoods Bastard:

Representation: .975
Accessibility: .975

Style: .99
Personal Preference: .98
Total Score: 3.895 Flags
Related Reviews:
Founders Dirty Bastard
Founders Breakfast Stout
FermentNation.Blogspot.com