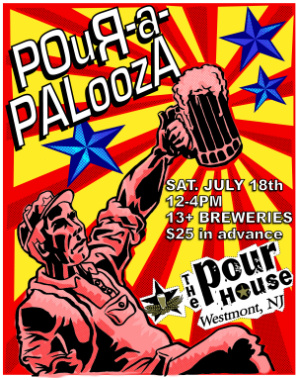 [
CLICK HERE FOR POUR-A-PALOOZA 2010 Detials!
]
Greetings, Citizens!
El Presidente here to let you know about an upcoming event that has everyone here at the Orval Office bubbling with excitement. South Jersey is about to rock a BEER FESTIVAL within walking distance of the PATCO rail system. This fine event is known as
POUR-A-PALOOZA
(or Pourapalooza ... if you're not into the whole hyphenation thing).
Presented by
The Pour House
in Westmont, NJ, this tented event will go on rain or shine on
Saturday, July 18th from Noon til 4 pm
and will play host to a virtual who's who of local breweries as well as a few guests from farther out of town. Among the dignitaries in attendance:
Victory, Flying Fish, Otter Creek, Sly Fox, Stoudts, River Horse, Konrad, Left Hand, Hunterdon, Troegs, Yards, Harpoon, New Castle, Southampton, Red Hook, and Weyerbacher. Not a bad guest list, eh?
We here at the Presidential Offices are anxiously awaiting the event. In fact, your own El Presidente will be attending the festivities with special giveaway items for the citizenry of the Ferment Nation! As our guests you will be given the motive, opportunity, and means to conduct your own reviews of the beverages you sample on the POUR-A-PALOOZA fairgrounds. Submitting reviews at the festival not only increases your chances of winning FREE Fermentnation swag but also puts you in the running to be published on our blog and our website! Citizen reviews are on their way!
After personally experiencing the festive atmosphere of the
Victory Beer Dinner
, I cannot wait for the POUR-A-PALOOZA to get rolling.
The Pour House
is a quality outfit run by people who care about beer and beer drinkers. This event promises to deliver every penny's worth of excitement (
$25 advance tix include a food voucher but $30 door tix do not
) with live bands inside and craft brews flowing indoors and out!
Come visit me at the
Ferment Nation's
Diplomatic Outpost on Saturday, July 18th 2009. POUR-A-PALOOZA will be held on the grounds of
The Pour House
: 124 Haddon Ave, Westmont, NJ [
see a map
]. See you there!