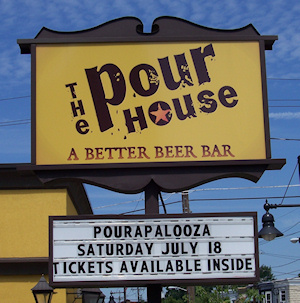 The first annual
Pour-a-Palooza
presented by the
Pour House
in Westmont, NJ was a hoot and a holler, a blast and a half, an unmitigated success! Everyone present seemed to share in a spirit of community and appreciation for the guest of honor: beer.
The Pour House
folks who worked their butts off all deserve a "hats off" salute. The staff all worked very hard to make the event fun and safe, but a few names must be mentioned: Thank you, Bob and Jacky for putting the pieces in place. Thanks to Jake for bringing in all the great breweries and beers (and special thanks to Jake for supplying Ferment Nation with our own tent!!). Thanks also to Kurt for keeping us involved and for working his butt off all day, keeping our beer cold. Looking forward to Kurt-a-Palooza!!
Some other shout-outs go to Chris from Hunterdon (the exotic sample king), Andy from Flying Fish (good sport, taking a turn in the Dunk Tank), Vicki and Kelly (for holding down the inside bar), and the Ferment Nation Cabinet (for just doing you).
The beers were so varied and plentiful that it's tough to give full reviews of all those little samples. I will, however, run down some standouts from my perspective:
Weyerbacher
: Frighteningly smooth heavy hitter
Merry Monks
is always appreciated but never necessary.
Fourteenth Anniversary Wheat Wine Ale
is big and beautiful, different yet not off-putting. It's sweety and wheaty and 11.8%. Holy crap.
Flying Fish
: Summer offerings couldn't be more appropriate with
Extra Pale Ale
and
Farmhouse Summer Ale
providing tasty relief from the delicous danger mentioned above. Sooooo drinkable.
Yards
:
ESA
is unbelievable.
Thomas Jefferson's Tavern Ale
is also unbelievable. Try to believe it, I dare you.
Stone
:
Cali-Belgique
is really good but I'm not coming up with words right now. I'll have to sit down with one or two and concentrate on the verbage. It's awesome, though, make no mistake.
Dear Citizens, we here at the Presidential Offices look forward to South Jersey's next event (Rumor has it that an Oktoberfest of sorts may be in the works!). Please be advised that in the upcoming week or so, some citizen reviews will be appearing on the blog: that's our way of saying a special
thank you to everyone who came and visited us at Pour-a-Palooza this past weekend.
Jack and Cheryl, we love you guys extra much because of how seriously you were taking the beers and the reviewing process. And sorry, Erin, but the Stone event in Wildwood has already passed : (
Anyhow, enjoy the accompanying slide show of all the cool pics. If you have any of your own that you would like to see on the site, please email them to us ASAP. And be on the lookout for those citizen reviews!
Thanks Again,
El Presidente