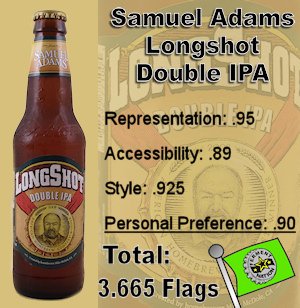 Sam Adams
Longshot Double IPA
:
This home-grown recipe from Mike McDole of California has a pretty serious hoppy kick. With 7 varieties of American hops addes, this blend has a very definite grapefruit juice thing going on. Extremely floral and pleasantly bitter, this Longshot has a lot going for it. The body is a solid medium with a decent malt base. I'm figuring there's some wheat in there somewhere too, since this light-colored IPA is cloudy and tongue-teasing.
I can't help but compare this brew to some others I've had:
Longshot Double IPA
reminds me a little bit of Dogfish Head 90 Minute IPA (only not quite as rich) and
Victory Hop Wallop
(only ot quite as bitter). All three have an alcohol content of about 9% and all three are capable of satisfying a hop-head's desires.
Sam Adams
Longshot Double IPA
is definitely worth a try.
Citizens, let me know if you might have more colorful descriptions or more accurate comparisons. Keep in mind that I've placed this particular beer in some pretty rare company so let me know what you think.
Representation: .95
Accessibility: .89
Style: .925
Personal Preference: .90
Total: 3.665 Flags