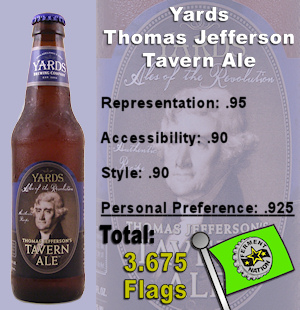 Yards Thomas Jefferson Tavern Ale:
Brewed by
Yards
for Philadelphia's City Tavern, this golden golden golden ale is reportedly brewed in direct accordance with Thomas Jefferson's own recipe. This recipe includes ingredients which are very specific to Jefferson's home in Virginia. All of Yards' ales seem to have an "old-tyme" flavor to them, but this one really nails it.
Take your New-World revolutionary boots and kick the Old-World brewing tradition square in the bollocks. This ale starts out sweet and malty when it first hits your lips. Earthy flavors like grain and pine kick in. The finish is a little bitter and boozy. Not too much of either, but enough to remember that this ale is 8% abv -- a little bigger than Yards' traditional session beers.
This brew is awesome out of a bottle but even awesomer on tap. That's a rare treat if you can find it, so seek it out and be "wow"ed.
Side note: I remember having Thomas Jefferson Tavern Ale a few years ago when it first came out. Wasn't that impressed at the time (I was more blown away by the George Washington Porter) but now that my tastes have matured a bit, I'm anxious to revisit the GWP and try the Poor Richard's Spruce Ale. Cheers.
Yards Thomas Jefferson Tavern Ale:
Representation: .95
Accessibility: .90
Style: .90
Personal Preference: .925
Total Score: 3.675 Flags