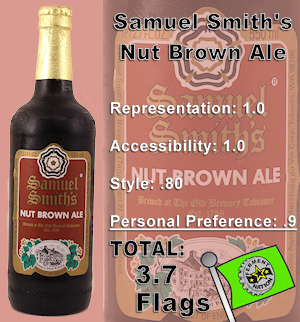 Samuel Smith's Nut Brown Ale:
Samuel Smith's
Brewery delivers nothing short of amazing products. The highest quality ingredients and the pure love of brewing blend to make a truly superior product. Based on reputation alone, I would trust Sam Smiths and try whatever they put out. "Try Sam Smith's new Walrus Tinkle Ale," the bartender said, smiling. "Uh, ok. Pour me a pint," replied El Presidente.
But have no fear, the
Nut Brown Ale
seems to be made from more traditional ingredients. I can taste the roasty goodness in this malty ale. Brown ales are generally a little malty-sweet, and this is no exception. The opening sip introduces the malt, but it finishes just dry enough to leave you wanting more. Lightly hopped and probably made with mostly pale malts, the
Nut Brown Ale
doesn't have a ton of natural carbonation, and would probably be an unearthly delicious treat to try hand-pumped out of a cask.
Nut brown ales are not usually my favorite style because they aren't very daring. Deliciousness is not a question, but I like something with a little more zing. Look for brilliant scores in representation and accessibility and also look for a challenge in the Style category.
Samuel Smith's
is one of my favorite breweries, which is exactly why I'm holding to a pretty tough standard with this score.
Samuel Smith's Nut Brown Ale:
Representation: 1.0
Accessibility: 1.0
Style: .80
Personal Preference: .9