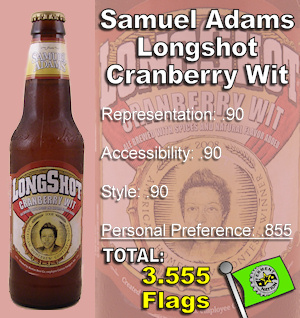 Samuel Adams
Longshot Cranberry Wit
:
Well aren't you a little tart? This unfiltered light ale is delightfully snappy and cran-tastic. With a light yet somehow hearty blend of cinnamon and coriander, the label's description likens this brew to a crisp autumn day in New England. Yes, I can see it now! The
Longshot Cranberry Wit
would be just right for a camping trip: Anytime of day, maybe best suited for breakfast. But the grains of paradise remind me of another Sam Adams' seasonal: the
Summer Ale.
And with a sharp cranberry flavor, I suppose this wit would work as a refreshing summertime brew as well.
The label also gives us another hint: "For brewery-fresh taste purchase before month notched." The magic month on my bottle was September. So if I buy it in August, I could drink it in September or October. Fall is in full bloom by then (at least in New England). Should I wait til September to buy more? Will I get max freshness? Will Sam Adams brew this batch again for purchase in the fall? Hmmm... Maybe I'll just enjoyit now as a summer thirst-quencher and keep one or two for the changing of the leaves. Perhaps I'll simply go camping a little early this year and enjoy the best of both worlds!
Representation: .90
Accessibility: .90
Style: .90
Personal Preference: .855
Total: 3.555 Flags
Read a review of Samuel Adams'
Longshot Double IPA
Read a review of Samuel Adams'
Summer Ale
Read a review of Samuel Adams'
Longshot Grape Pale Ale
Read a review of Samuel Adams'
Longshot Weizenbock