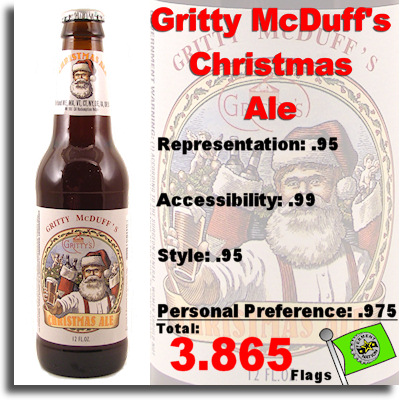 Gritty's
Gritty McDuff's Christmas Ale
:
Nothing gritty about this smooth, dark brew. While not heavily spiced with tastes of the season (you know, cloves, cinnamon, dried fruit),
Gritty McDuff's Christmas Ale
would certainly be a prime candidate for sitting down with the
Big Guy
himself and getting into the groove of the season. The flavor is rich yet mellow, with a solid malt foundation. It reminds me of a traditional bock-style beer only with a slightly lighter body. Which, of course, lends itself more to some interesting "sessions" since this Holiday brew goes down pretty easy. A little
too
easy.
Actually, I am infinitely curious what this would taste like on tap. More than most brews I'm pondering how it would go -- would the draught be thinner and lose some of the its flavor, or would it be richer and gain a touch of body? I would prefer the latter, because a smidge more body would catapult this into another level. Unfortunately (very unfortunately), I don't have any trips to Portland on the docket anytime soon. If you're up that way, don't miss this groovy, easy-drinking beer.
-
Like
holiday beers in it's easy to see myself round a fire enjoying a winter's night kind of way.
-
Unlike
other holiday beers by the absence of in-your-face holiday spices.
Representation: .95
Accessibility: .99
Style: .95
Personal Preference: .975
Total: 3.865 Flags
[
Read other Christmas Beer Reviews
]