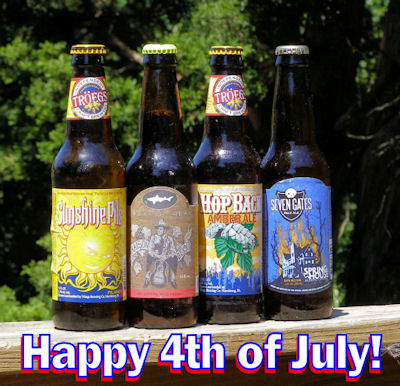 Hello Citizens,
Happy Independence Day!! We here at the Ferment Nation like to celebrate July 4th in barbecue style. And what transforms cooking outside into a cookout? Beer. If you remember last year's Independence Day BBQ selections, the Stoudts American Pale Ale and Troegs Sunshine Pils reigned supreme.
Sunshine makes a return engagement because it has proven itself time and again to be a go-to brew in the hot weather. Clean, light, refreshing, and easy to drink, this pilsnser keeps giving and giving.
Troegs comes up big with another light and sessionable favorite, Hop Back. Bottle or draft, Hop Back is a perennial stand-by.
Lancaster County's Spring House Brewery offers a nifty pale ale called Seven Gates. I just visited Spring House a few weeks ago and got these brews right from the premises. This Seven Gates Pale Ale on tap is excellent. Lets give it a go in the bottle.
Dogfish Head's Raison D'Extra is a beast of a beer. Fruity and wine-like, this will work as an after-dinner relaxer, finishing off the night for certain. Raison D'Etre on steroids should be drunk from a wine glass as the sun goes down.
Thanks for spending your holiday with the Ferment Nation. Be safe and stay hydrated. Cheers.