Stop Number Two on the Haddon Pub Fest was Treno Pizza Bar on Haddon Avenue. Here are some of the beers we sampled there:
Great Lakes Brewing Company
Burning River
Pale Ale 6% abv:
Interesting note on the label: Burning River is named after the 1969 burning of the Cuyahoga River. Okay, now the beer: It's unbelievably smooth and drinkable. Not far behind Troegs or Stone, the hop profile is very accessible and smooth with no aftertaste. Perfect for walking around in 90 degree heat.
Great Lakes Dortmunder Gold Golden Lager 5.8% abv:
Crisp, dry lager with mild hoppy flavor. Not so much malty stuff going on here. Lager-ish lager with a touch of funk. It's even a little pilsnery if that's your style.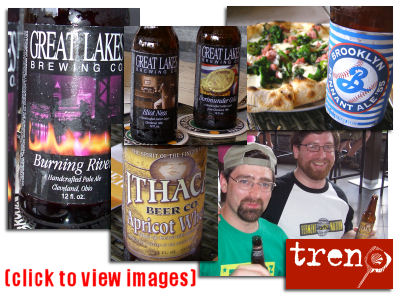 Great Lakes Eliot Ness Amber Lager:
Smooth and drinkable. A little bit sweeter and maltier than the Dortmunder style. Infinitely accessible to newbies but nice enough for beer geeks to appreciate. Eliot Ness has a little more substance than, say, Yuengling, but just as drinkable.
Another interesting note about Great Lakes Brewing Company: The beers had been originally brewed in accordance with the German Beer Purity Law of 1516. I believe all of these beers still are brewed that way, which is a cool old-school way of making beer!

Ithaca Apricot Wheat:
It seems very apricoty and fruity with the first whiff of the bottle and first taste. Is it like Dogfish Head's Aprihop? Not sure. I would have to do a bottle-to-bottle comparison. Plain looking bottle, but an okay flavored wheat beer. --The VP
Brooklyn Pennant Ale '55 5% abv:
Chilled-out ale with brown ale tendencies. Malty (kinda) with a mild hop profile. (The VP writes, "It's an ale. Nothing special. It's OK."