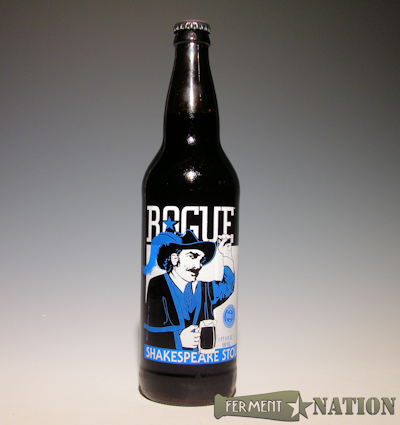 Rogue
Shakespeare Stout
:
"A beer, a beer, my kingdom for a beer!"
William Shakespeare
(according to the customs of the day regarding christenings) was born on April 23, 1564. He also happened to die on April 23, 1616, so you can imagine that April 23 holds a special place in the hearts of Shakespeare fans. So, what better way to honor The Bard than write a beer review on a beer blog, right?
I actually had too many options. Would it be better to review all British beers, from London? Or maybe beers made in the style closest to what would have been brewed in Elizabethan England? Or maybe a beer from Oregon? Right! So, I went with a beer with Shakespeare in the name:
Rogue
Shakespeare Stout
. From the first whiff from the bottle, this is smelling good, very much like a true and proper stout. Methinks I will like this one.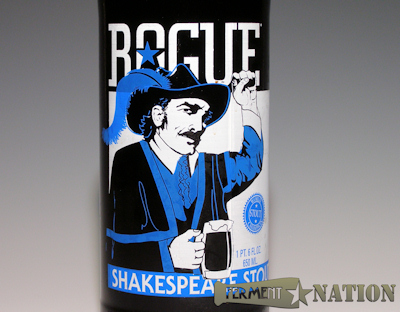 The beer is black, as black as the heart of yon Cassius. But I won't be going lean and hungry drinking this stout. It is smooth, and has a nice lingering taste on my tongue and in the back of my mouth. It has an odd bit of sharpness, too, which might be enhanced by the effervescence of this stout, which I find interesting. Rogue writes on the bottle:
"Ebony in color with a rich creamy head, an earthy flavor that comes from oats, and a mellow chocolate aftertaste."
This is interesting. I would not have at first described the aftertaste as "chocolately" but I did find it enjoyable. You know, some stouts can be a little overwhelming in the roasty, toasty, chocolate flavors, and some can be so boring that they put you to sleep (
perchance to dream?
), but this walks the tightrope nicely. It smells like a proper stout, tastes good, and has a pep to it. You don't normally hear stouts being described as "refreshing," but I might just do that with this beer.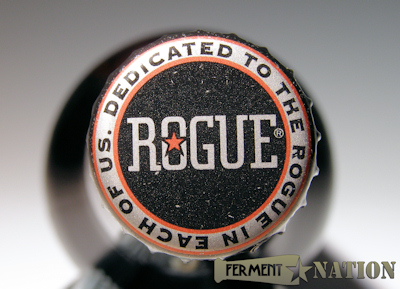 As I drink this beer more, I am liking the aftertaste even more, so it will score well in Personal Preference for sure and Style points will be fairly high, because of that "refreshing" combination of bubbles and pep. Representation? It still can't hang with my personal favorites like Samuel Smith, but I think this is solid, and would be a good stout for the casual as well as the advanced stout drinker. I am pretty sure I had this at
The Good Dog Bar
in Philadelphia, and I enjoyed it there. I also find it interesting that
Rogue
seems to have dropped the word "Oatmeal" from this beer. So, it used to be
Shakespeare Oatmeal Stout
and is now just
Shakespeare Stout
. "Liar and Slave!" Not sure if I would score it or treat it differently if it had the word oatmeal in it. I like it, though.
Rogue
Shakespeare Stout
:
Representation: .80
Accessibility: .90
Style: .90
Personal Preference: .90
Total Score: 3.5 Flags