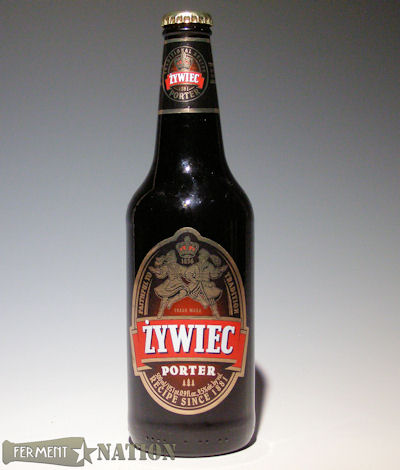 Zywiec
Porter
:
Not sure how to pronounce the name. At first sniff, it has a smell similar to
Samuel Smith's
Taddy Porter
, so I am pretty excited about this beer. The bottle says that they are using the same recipe since 1881, so hopefully there is a reason as why they have not made any changes. The thing about
Samuel Smith's
Taddy Porter
, like their
Oatmeal Stout
is that you have to watch out the beer doesn't overflow out of the bottle. It's quite bubbly, and you have to pour carefully into the glass. Not the same here, but I am not complaining. I actually get a little annoyed waiting for the head to subside on a
Samuel Smith
beer.
I take a sip out of the bottle first, and I like what I am tasting. In the glass, you can smell what I think are vanilla tones. Quite nice. This is a silky smooth porter. I am enjoying this. At 9.5% abv, this porter is about getting the job done, and you can kind of taste the alcohol here, but I am not always impressed with alcohol masking. Sometimes you should know what your drinking and be okay with tasting what the beer is made of. I think this might be the first time I have had a beer of Polish origin. It makes sense that like Germany and Belgium, Poland would make high quality beers, but I cannot think of any other Polish beers that I have had. This might make for interesting avenue to stroll down. I will have to see what else Poland has to offer in beers.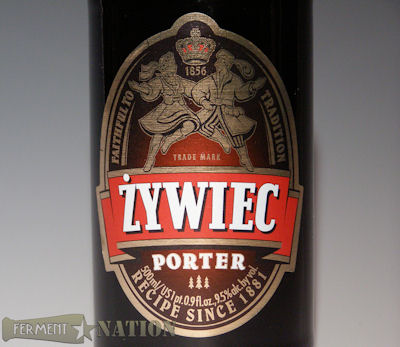 The bottle proudly proclaims, "Faithful to the Tradition" on one side and "Recipe Since 1881" on the other. And I would make two points: 1) I would classify this as a traditional porter, which I think is great. It is a porter that tastes like a porter. No crazy extra flavors added, and I think that is why I compare it to
Samuel Smith
, and why I enjoy it. It is a well done porter. And 2) other breweries could learn from this beer. Make a porter or a stout or a lager or an IPA, and then perfect it, and then stick with that recipe. Zywiec I think is a town in Poland and the bottle features an illustration of what I think is the brewery and the town. This beer is all about tradition, and I think this is a traditional beer worthy of keeping a tradition.
This beer will score high in representation, because it is a really solid porter. At 9.5% abv, it won't score high in accessibility for that fact. You can taste enough of the alcohol that I think a newcomer to beer or to dark beers would not immediately take to this brew. Style points won't be super high, because it is a traditional beer, but personal preference will be scored well as I really like this beer.
Zywiec
Porter
:
Representation: .90
Accessibility: .75
Style: .80
Personal Preference: .90
Total Score: 3.35 Flags