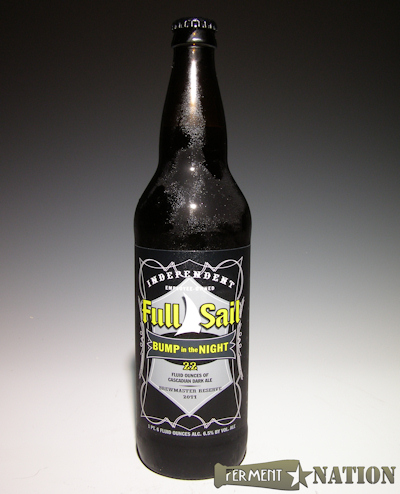 Full Sail
Bump in the Night Cascadian Dark Ale
:
Pop the cap and this beer smells good to me. A nice brisk pour into a half pint glass and the head is just off white and creamy. The beer's color is brown, darker in the center, with a nice dark copper color toward the bottom of the glass where light is getting through.
I do a lot of reviews of dark beers like stouts and porters and I love black ales, so I looked forward to this one as I am working my way down the color spectrum. I had a German dark lager once (
Zötler Bier
Korbinian Dunkel
) and I really did not like that at all, but I do like ales. In my opinion, it enters much bigger beer family: ales, IPAs, Pale Ales, brown ales, British style, American style. I am several sips into this one and I am liking it. Light and airy mouthfeel: no bitterness, no unwanted lingering on the palate. Pretty easy to drink, too. It has a slight bite to it. It has some hoppiness, which is good.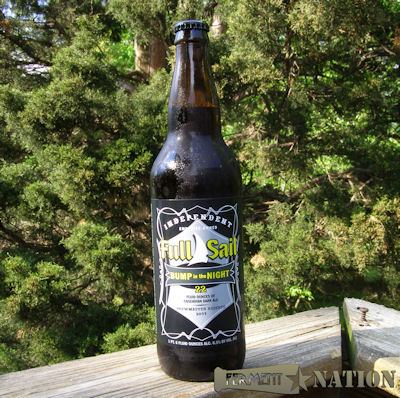 The bottle reads, "Brewed in the Cascadian dark ale style, the array of dark malts present a full bodied brew with notes of cocoa & slight roast. Bump in the Night CDA has a big floral citrus hop flavor & bitterness, reminiscent of an IPA." I amnot sure I entirely agree with their self-assesment. Not tasting the cocoa. The slight roast was apparent when first opening the bottle, but not after I have been drinking the beer for a while.
Here is what I like about this beer: it tastes good, the brewing company is employee-owned, and the abv% is listed on the bottle. Here is what i do not like: nothing. This is not a spectacular beer by any means, and I don't know if I would ever recognize drinking a CDA (Cascadian Dark Ale), which means I have not real comparison to score it for representation. Accessibility will be high. Nothing too extreme here and it is only 6.5%. Of course, the "nothing extreme" I just mentioned means style points won't be through the roof. Essentially, this is a good, solid beer, and depending on the price, I would definitely buy it and drink it again.
Full Sail
Bump in the Night Cascadian Dark Ale
:
Representation: .85
Accessibility: .90
Style: .75
Personal Preference: .85
Total: 3.35 Flags