Although
The Ferment Nation
is in the Philadelphia Metropolitan area, sadly, we have been somewhat neglectful of Philly Beer Week 2011. We tried to keep up with the coverage, the takeover of the taps, the fancy beer dinners, and the rest, but we did not cover many events this year.
However, one delightful addition to the Philly bar scene has been
The Farmers Cabinet
, which I had a chance to visit during Beer Week. Located at
1113 Walnut Street
in Philly, this place has got some major atmosphere. I was fortunate enough to drop by during one of their very first weekends, and I was treated not only to fine European beers (the likes of which you truly do not find elsewhere in the city), but also awesome, old-timey jazz music, and wonderful food served amid an atmosphere of candles, oil lamps, and an oddly sophisticated rustic charm.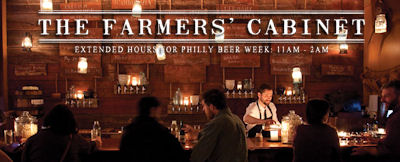 This time I went to taste the beers of
Nebraska Brewing Company
. Having never heard of them or sampled any of their beers, this was a great opportunity. As much as I love Philly local beers and PA regional breweries, it was nice seeing a new face in the crowd. Thankfully, you can order half pints at Farmers Cabinet, which made it easier to taste all of the beers they were offering.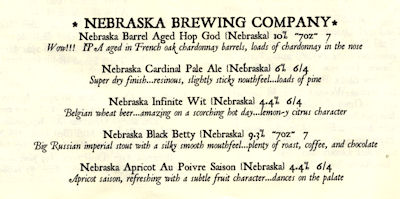 I had some help with this tasting, the unofficial legal counsel to the Ferment Nation, and she is welcome to chime in with additions to this post. I started off with the Black Betty, she with the Barrel Aged Hop God (10% abv!!). The Apricot Au Poivre Saison followed, to be followed up with the Pale Ale and the Wit. Above is a scan of
The Farmers Cabinet
"Book of Libations." Although nothing really knocked my socks off, these beers were very solid. The Russian imperial stout was bold (but I like my stouts roastier), the IPA tasted like an IPA and was tasty, the Apricot saison tasted like apricot.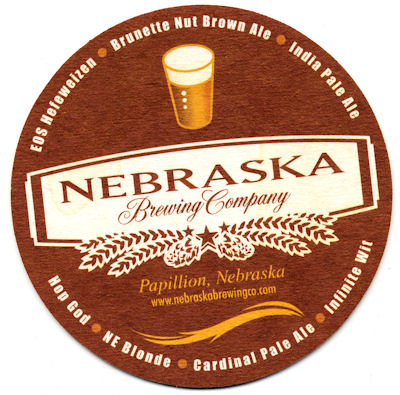 Overall, tasty beers done well. It wasn't a symphony in my mouth, but Nebraska Brewing hits all the right notes, and I definitely want to make another round of tasting to get a better idea of what they are about. Beer always tastes better when enjoyed with a friend in a charming atmosphere, so my impression was good. It should be interesting to see if these cornhuskers can barmstorm the Philly beer scene in the coming months.