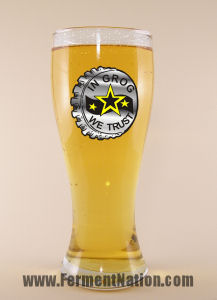 River Horse
Brewer's Reserve Double Wit
:
Had this one on tap at the Grey Lodge Public House recently. Get it if you can.
Not your typical wheat beer. Lots of wheaty and citrusy notes, but something else gives this beer a certain individuality. It's got a Belgian Tripel kind of sweetness and a warming alcohol bump. I first sampled this brew at the Philly Craft Beer Festival and have been awaiting its arrival for some time now. Not disappointed!
Actually, I hope to see more River Horse offerings in Philly, but especially in South Jersey -- I spoke to someone from RH at the Philly Festival and he said that they are looking to expand in NJ to fill the void of some other Jersey beers that are actively courting the Philly scene. I happen to live really close to Philly, so this turf war works out fine for me. Keep it coming, guys.
A newcomer to craft beers may want to sample some wheats first, then Belgian Tripels, so that they can appreciate the elements present in this original offering from River Horse. Yeah, Jersey!
River Horse
Brewer's Reserve Double Wit
:
Representation: .85
Accessibility: .90
Style: 1.0
Personal Preference: .90
Total Score: 3.65 Flags