The first Sunday of
Philly Beer Week 2010
saw a number of Sunday brunch bars getting in on the action. in Northern Liberties, two bars(
Bar Ferdinand and Camino Real)
rocked outdoor seating and music on the Liberties Walk. Paella and ribs were the foods of choice outside with beer specials from Victory Brewing. Here are some of the beers sampled: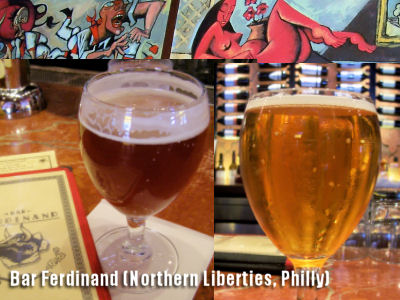 Southern Tier Heavy Weizen Imperial Wheat Ale:
Wheat beer on steroids. The richest weizen on record,
Heavy Weizen
is dry, then sweet, then dry again. Delish as can be, but not quite as refreshing or accessible as your typical wheat brew. This beer is just short of a wheat-wine style ale (
Weyerbacher
14
and
Smuttynose
Wheat Wine
are a bit richer and boozier) and is meant to be enjoyed slowly.
(From the VP)
Weyerbacher
Double Simcoe IPA
:
At 9% abv, it's not too boozy. It fills your mouth with light hoppiness. Hoppy, hoppy, yum, yum, with a lingering sweetness. Don't know if I have ever had this on tap before. Normally, I get this in a bottle. Very nice.