When a German Brauhaus invites you to a festival of strong beers, you'd better bring your A-Game. Featuring beers ranging from 7% to 14% abv, Brauhaus Schmitz provides a festive atmosphere and great food (as well as excellent service) to support those tough missions ahead. Was El Presidente up to this particular challenge? Let's review...
Klosterbrauerei Ettaler Curator 9% abv:
Whoah. Rich and complex, this brew showcases flavors bursting with dark fruits -- tart like dried cherries, but not at all like a lambic. Curator reminds me of a doppelbock that had a run-in with a Flemish sour. Warming, challenging, rewarding.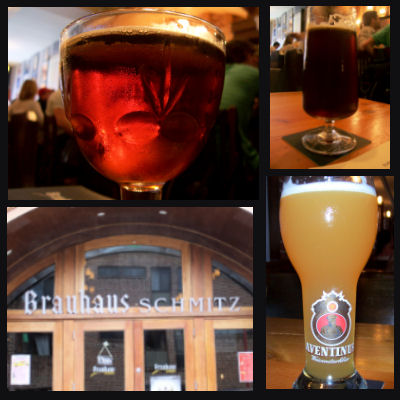 Schloss Eggenberg Samichlaus 14% abv:
Oh... my... God. Just a bit smoother on tap than in a bottle. Perhaps less complex and boozy as well, but enchanting just the same. Red as a ruby, the malty sweetness takes you to another world. Not a beer to take lightly! Sip slowly and enjoy this exceptional beverage.
Brewed once a year on December 6th, Samichlaus is aged a full 10 months before being bottled. And if you have some bottles stashed away next to your cask of Amontillado, they will age with the best of them. I have some from 2006, 2007, 2008, and 2009. This particular vintage that I sampled on tap at Brauhaus Shmitz was from 09 and it was lovely.
Weihenstaphaner Vitus 7% abv:
This single-bock wheat beer reminds me of the hefe-weiss with a little more malt. It is darker only by a shade and very rich. Strong yet comfortable banana and clove flavors. Nice and rich, sweet but not overly so. This beer reminds me of a dessert bread.
Mission accomplished. Well, only the surface has been scratched, of course. Thanks again to
Brauhaus Schmitz
for the amazing
Starkbierfest
. El Presidente was certainly impressed by this international addition to
Philly Beer Week 2010
.