So, you're trying to outdo El Presidente's Ultimate Pumpkin Showdown, eh? Well Charlie, you've stood your ground admirably. With Ten Pumpkin Beers on tap,
The Institute Bar
(on the corner of
12th and Green in Philadelphia
) put on a heck of a show with
Charlie's Pumpkin Patch Saturday
.
My first time at
The Institute
was a cool affair. What struck me most was the really cool laid back crowd. Just lots of regular people who love good beer and gathering for a raucous good time. The V.P. and I also had food, by the way. I recommend the Pork Fries. Yes, I said PORK FRIES and they were delicious.
So how did we begin? With one beer each not nearly being enough to get a true sampling, we decided to board Ale Force One and take flight (well, two flights actually) and sample eight of the seasonal drafts at once. What follows is a brief rundown of the brews, some of which I've reviewed before, and others that are forthcoming in the next weeks before Halloween. Here goes: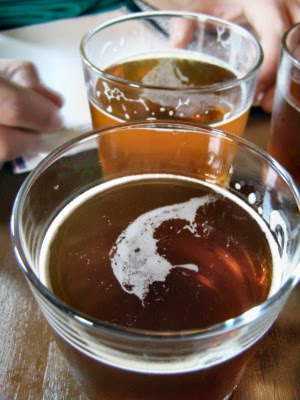 Lakefront Pumpkin Lager
: Pumpkin zest, lager bite. A little bitter but pretty nice.
Brooklyn Pumpkin Ale
: Dry and boozy with a warming quality. This would be good to take with you on a hayride on a chilly night.
Dock Street Pumpkin
: Ale first, Pumpkin second. Very even and very drinkable. Nothing crazy or scary going on here.
The Bruery Pumpkin
: Light and tart. Wheaty flavor but a little dry. Not too terribly pumpkinny.
Southampton Pumpkin Ale
: Draft is a little better than out of a bottle; Opens up and has a touch of tartness but a dessert-like sweetness prevails. Sweet without making me cringe.
Smuttynose Pumpkin Ale
: Holy moly. This beer could be a little overwhelming if you're a beginner. Draft is way more wine-like than the bottle version. Draft is also a little less creamy but no less impressive. Awesome.
Wild Goose Pumpkin Patch
: This beer posesses an extreme funk; kinda weird and wacky. Blow out a pumpkin candle and lick the wick if you want to approximate the flavor. So I should probably come back to this brew and give it another chance in a few minutes.......... Okay, let's see here... this isn't very good. I guess I was right the first time.
Southern Tier Pumpking
: This is Halloween, This is Halloween... Just crazier than ever. I gotta say, though, it's a little much. The same style that blew me away last year is now a bit much for everyday use.
Elysian Night Owl Pumpkin Ale
: The Real Deal. The Rizzle Dizzle. Draft, bottle, whatever. This is an awesome Halloween, Thanksgiving, or Autumnal Equinox beer. Its the new champion of this Fall, in my humble opinion.
So my first trip to The Institute was a success. A good time was had by all. A special shoutout goes to Mark Kalbacher who tends bar at the Institute. We appreciate the heads up to the event and the access to take pictures. We hope that you, dear citizens, can benefit from the reviews of these beers. And do visit the Institute soon. It's a lively place with awesome beers on tap. Oh, and Pork Fries.