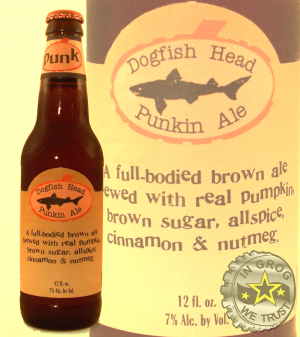 Dogfish Head Punk:
Rich and punkiny with a truly groovy warming quality which lends itself to maxin' on a chilly rain-soaked night. Medium to full-bodied. That's what a lot of pumpkin beers lack: body. Dogfish Head, however, throws down the gauntlet and unleashes their usual assault on our tastebuds. The fruity essence of pumpkin with stern yet mellow spicing gives a wine-like quality to this beer that Dogfish lovers have come to find as one of the signature features of their off-centered ales.
Not like pumpkin pie at all. Totally off-centered, as usual, in the lineup of pumpkin ales up for review in the weeks approaching Halloween and Thanksgiving.
Just a little dry while maintaining fruity goodness, Punk is a blood relative of Raison D'etre and Aprihop in presentation and spirit. Playful yet serious. Classy but on the edge. The kinda beer ya take home to mom...
(Click HERE to see the results of the Ultimate Pumpkin Showdown!
)